Ford is spending a bunch of cash to inspire the next generation of robotics engineers that just might make its cars even safer one day. Called the For Inspiration and Recognition of Science and Technology Competition (FRC), the program aims to ignite passion for technology in participants aged from 14-18.
---
Cockroaches have often been selected for remote control cyborg treatment, but they're typically given instructions by electrically stimulating their antennae. This little critter, however, has the electrics on his back hardwired into his nervous system, allowing for human remote control of his motor functions.
---
Cars are evolving. We've gone from exclusively burning dead fossils in our petrol tanks to charging them up at the wall overnight, and now we're even thinking about using even fancier ways to get our vehicles from A-to-B. With fancier cars has to come fancier production methods. Step inside the top-secret Audi production facility in Germany where humans work hand-in-servo with robots to build thousands of custom cars a day.
---
Pleurobot looks like a salamander skeleton come to life and that's no coincidence. The robot was engineered to slink around exactly like a salamander. And we mean exactly.
---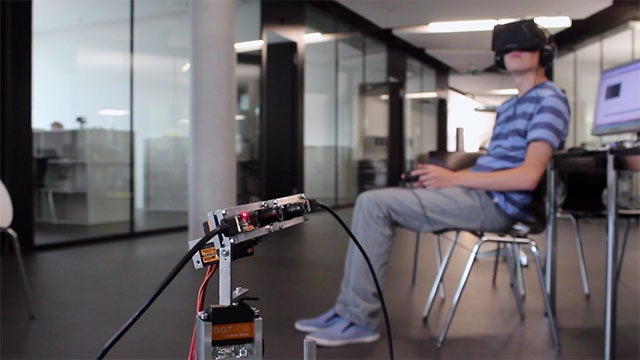 Even before the Oculus Rift has made it into the homes of eager early adopters, there have already been super great, and yes, super creepy, applications dreamed up by developers. This is definitely one of the super great ones.
---
When a decades old toy breaks down and stops working with no hope of repair, you usually just toss it or find some way to recycle the parts. But what if you're as attached to that toy as you were a pet? In Japan, people are giving Sony's robot AIBO dog actual funerals to say goodbye to their faithful, electronic companions.
---
As robots get small enough to easily swim around inside the human body, they will soon be used to perform medical procedures all from within a patient. And researchers at Johns Hopkins University are making such an idea even more plausible with the development of tiny robotic grippers that will actually dissolve away inside a patient after a medical procedure is complete.
---
OK, it's not exactly a robot — but I bet it's still the craziest thing you've seen all day. Japanese juice and ketchup company Kagome built a freaking wearable tomato dispenser for a runner at the Japan Marathon this weekend.
---
When he's not busy with his job as co-founder of Wolfram Research, Theodore Grey makes a lot of incredible things. Sometimes, they have to do with metal and fire. But fairly regularly he uses a robot to make a quilt. And this is the quilt which rules them all.
---