Maybe the solution to touchscreen displays that don't get washed out in direct sunlight is to skip the screen altogether. Researchers at Aerial Burton are working to perfect a new kind of display technology that uses lasers to produce 3D pixelated images that appear to hang in mid-air and are still visible no matter how bright it is outside.
---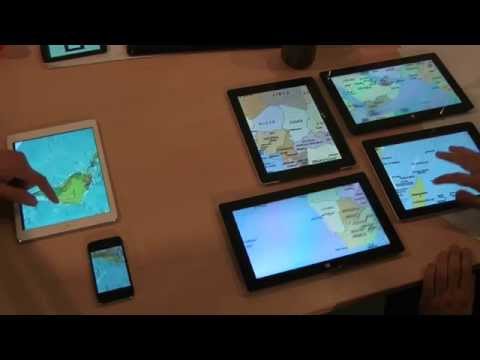 How many mobile devices do you carry with you on a daily basis? A couple of smartphones, and maybe a tablet? When you get to work, that makes for quite a few displays floating around, and researchers at MIT have come up with software that can let them all function as one giant touchscreen, no matter how they're arranged on a desk.
---
Living in a mostly wireless world is a fantastic experience: were it not for constant connectivity issues, competing wireless protocols, limited ranges, and terrible battery life. That last issue is of particular concern for tiny reconnaissance drones like this hexcopter from Cyphy that work best when remaining aloft for hours. So its creators decided to skip squeezing a tiny battery onboard, and instead keep it tethered with a long invisible wire.
---
We've all but figured out how to make robots and machines tiny enough to operate inside the human body. The tricky part is figuring out a way to power them that's safe for the host. In lieu of bulky batteries or inconvenient wires, researchers at Stanford University have developed an implantable wireless chip that can be powered by the same ultrasound waves used to safely image a foetus in the womb.
---
Taking inspiration from the microscopic rounded structures that creatures like starfish naturally grow to improve their limited vision, researchers at the University of Michigan have succeeded in artificially creating smooth facet-less crystals in the lab that have the potential to revolutionise everything from solar panels to LEDs.
---
They have been proven to be far more energy-efficient than their gas-powered equivalents, but limited range, long charging times and high costs have prevented electric vehicles from really catching on. Researchers in Japan, though, may have come up with a breakthrough to overcome some of those obstacles by powering an electric car using short-range radio waves.
---
To help speed up screenings for spotting melanoma, the most deadliest type of skin cancer, dermatologists already use digital cameras with wide-angle lenses to capture images of a patient's body. But to ensure there's enough resolution to zoom in close and visually examine a specific area researchers at Duke University have developed a 250-megapixel camera that provides extremely detailed views of a patient's skin.
---
A team of researchers in Singapore have developed a next generation lithium-ion battery that can recharge a battery to 70 per cent in just two minutes. That means it would charge an entire electric car in just 15 minutes. And here's the kicker: it lasts over 20 years.
---
Lithium-ion batteries are wonderful things, but they're unfortunately given to short circuiting and bursting into flames every now and then. It's extraordinarily rare, but it happens. A Stanford research team thinks it has solved this little big problem by building an early warning system into an existing battery. They say it could save lives, which makes sense, because fire.
---