Wireless technology is already amazing. It's any data you could ever want through the air. But some exciting innovations are hiding on the horizon. This cheap little circuit that allows a wireless antenna to send and receive data at the same time is one of them. It stands to double the rate at which your phone transfers data.
---
First revealed to the public earlier this year, NASA and the US Air Force Research Laboratory have finally begun testing what they hope will be a revolutionary new aeroplane wing design that replaces moving parts with shape-changing assemblies allowing wings to bend and twist to manoeuvre a craft through the air.
---
As awful as the movie Twister was, it helped bring to light the challenges of researching tornadoes. Namely, how do you get close enough to study something that's powerful enough to kill you? One obvious solution is to simulate them, and thanks to recent advancements, a team of researchers was finally able to create a deadly F5 tornado in a computer and keep it alive for an hour and 40 minutes, providing countless insights as it tore its destructive (but simulated) path.
---
Images of long sandy beaches, breathtaking mountains, and even bustling cities come to mind when you think about an extra wide panoramic photo — not the inside of somebody's bladder. But new software promises to give doctors a better view inside a patient's plumbing by stitching countless images from an endoscope together, making it easier to spot problem areas during an exam.
---
Remember how excited everyone was about Google Flu Trends last year when it confirmed all of our deepest and darkest fears that we were doomed to a winter of misery? Apparently, using peoples' neurotic self-diagnoses isn't the most accurate way to track disease. So now, Google has decided to introduce a "new" flu-tracking engine. The new part? Reliable data.
---
Maybe the solution to touchscreen displays that don't get washed out in direct sunlight is to skip the screen altogether. Researchers at Aerial Burton are working to perfect a new kind of display technology that uses lasers to produce 3D pixelated images that appear to hang in mid-air and are still visible no matter how bright it is outside.
---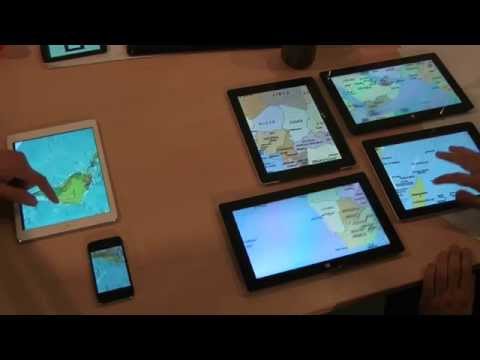 How many mobile devices do you carry with you on a daily basis? A couple of smartphones, and maybe a tablet? When you get to work, that makes for quite a few displays floating around, and researchers at MIT have come up with software that can let them all function as one giant touchscreen, no matter how they're arranged on a desk.
---
Living in a mostly wireless world is a fantastic experience: were it not for constant connectivity issues, competing wireless protocols, limited ranges, and terrible battery life. That last issue is of particular concern for tiny reconnaissance drones like this hexcopter from Cyphy that work best when remaining aloft for hours. So its creators decided to skip squeezing a tiny battery onboard, and instead keep it tethered with a long invisible wire.
---
We've all but figured out how to make robots and machines tiny enough to operate inside the human body. The tricky part is figuring out a way to power them that's safe for the host. In lieu of bulky batteries or inconvenient wires, researchers at Stanford University have developed an implantable wireless chip that can be powered by the same ultrasound waves used to safely image a foetus in the womb.
---