Loading page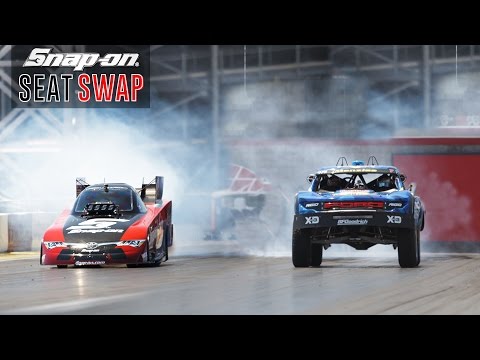 Video: Well, you know exactly what's going to happen. When a car has 10 times the horsepower of a truck, the truck is going to get smoked. The question is how bad will the torching be? Hilariously bad.
---
Drone racing is exciting in its own right, but for spectators the sport still can't quite match the horsepower and top speeds of auto racing — or can it? Nissan's GT-R drone, designed and built by Tornado XBlades Racing, can hit a top speed of 185km per hour. It can accelerate from zero to 96km in under 1.3 seconds.
---
Formula E isn't just different from its conventional sibling in what's under the hood. Up top, there's power boost activated by tweets, a gentle whine instead of the iconic roar, and now 360-degree cameras riding on top.
---
Video: To help promote the upcoming World Drone Prix in Dubai next week, the organisers enlisted the help of the local police, who have a McLaren 650s in their garage, to go head-to-head against a high-speed racing drone. It doesn't matter who won the race, though, because the Tron-like footage is just wonderful.
---
Video: Formula One racing mixes man with machine so much that both are essentially responsible for victory. That's why F1 gives out awards to both drivers (F1 World Drivers' Champions) and the constructors of the cars (F1 World Constructors' Champions). The constructor is basically the automobile maker of the vehicle (think Ferrari and Mercedes and so on) and the winner is determined "by adding points scored in each race by any driver for that constructor".
---
Video: Rube Goldberg machines are always fun because you get to see everything happen in a linear fashion and yet still don't know what the grand finale is. It's like you kind of, sort of see where it's going but still remain excited on the next step of the machine. This Rube Goldberg machine by Arrow FiveYearsOut is even better than all the others because you truly don't expect the ending. It brings you to a whole 'nother space.
---
Video: Everything seems to be going swimmingly in this stage of the Volta La Marina in Benidorm but then all of a sudden the cyclists fall off pace of the car and seem to be slowing down to a legitimate crawl and then basically hit a full stop all at once. What happened? It was the wind. The strong winds pushed against the cyclists stopping them in their tracks and even blowing some backwards. The race was suspended because of it.
---
Video: Racing drones still isn't considered as challenging as other vehicular sports given the pilots aren't actually inside the vehicles they're controlling. But watching the first-person footage of this drone absolutely tearing through a packed warehouse, you can't argue there isn't a ton of skill required.
---
Loading page