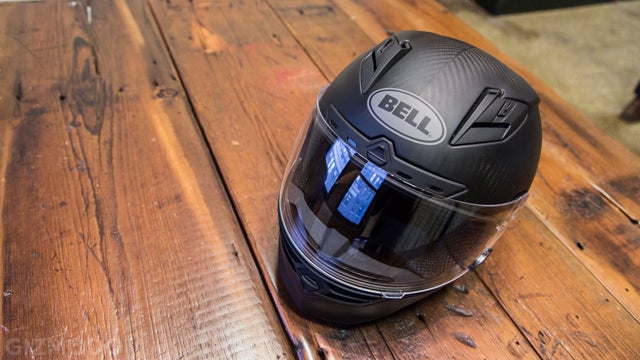 It's not hard to find a badass-looking helmet for your adrenaline-fuelled hobbies. The trick is finding one that fits correctly. For decades, that's meant buying a standard (S/M/L) size lid and rearranging the padding to conform to your noggin. Recently, I got to try out a much better way.
---
Jarno Trulli is one of the all-time greats of Formula One racing. With 256 Grand Prix starts under his belt, he's up there with Michael Schumacher and Rubens Barrichello — he knows more than a little bit about how to drive a fast car quickly. Like most F1 champions, he's a jack of all trades, with history in karts and Formula 3 as well. He's now turning his attention to Formula E — the all-electric racing class that's turning a lot of heads.
---
A lot of people are not happy with the sound of the new engines in this year's Formula One. As a result of extensive rule changes, the 2014 F1 cars are much quieter than last year's models, with none of that ear-splitting high-pitched scream that made 2013 and earlier cars so appealing. And now, a competitor is putting them to shame.
---
You're out in the bush. There's no phone reception. No internet. Nowhere to charge your gadgets. Surely it's a geek's worst nightmare, right? Wrong: as long as you have a dinghy and a dangerously narrow riverbed, you'll have the best day of your life.
---
The rules done changed in F1 racing from last year to now and the most obvious difference between 2013 and 2014 is the sound of the engine in F1 racing cars. Before they used to be so screaming loud that they sounded like the manifestation of space laser warfare on the road. Now in 2014? It's like hearing weak go karts prancing around the track. It's that different.
---
Who knew that when Super Mario Kart first hit the SNES so many years ago it would have such a lasting effect on us? Even Scalextric, who have been making slot car tracks for decades, are finally introducing a new accessory that wirelessly connects to an app so you can add SMK-like crash damage, power-ups and even stat tracking to back up your bragging rights.
---
Australian racing fans had been clamouring for years for Bathurst to appear on a racing game of note. Now two have come along at once. Forza Motorsport 5 has been in the wild for a couple of weeks now, but Gran Turismo's version is just about to hit stores. This comparison video between Bathurst in real life and its virtual equivalent is ridiculous. In the lower resolution it's often difficult to tell them apart…
---
In 1989, the incredible Ayrton Senna completed a lap of the Japanese F1 circuit, smashing a world record in the process. On board was Honda's engine telemetry system which recorded a bunch of information from the car. Now, almost a decade after his death, Honda is using that same data, along with some giant speakers and lights to recreate that incredible lap in a flurry of noise. This is a beautiful tribute.
---
That's a big call, but wait until you see what Project Cars has to offer. Wow.
---
---