Loading page
Image Cache: Australia has 12 C-130J Hercules turboprop medium-duty tactical airlift aircraft in its fleet, operated out of RAAF Base Richmond. The C-130J can carry 20 tonnes of cargo or 120 passengers, but it can also move when it needs to — as this video demonstrates.
---
The Lane Cove West Business Park on Sydney's north shore is a sleepy little place, but inside one of its buildings, behind these doors, something very high-tech is being created. Rockwell Collins Australia, a subsidiary of its American parent, is hard at work building an integral part of the world-class sensor suite that goes into the F-35 Joint Strike Fighter.
---
---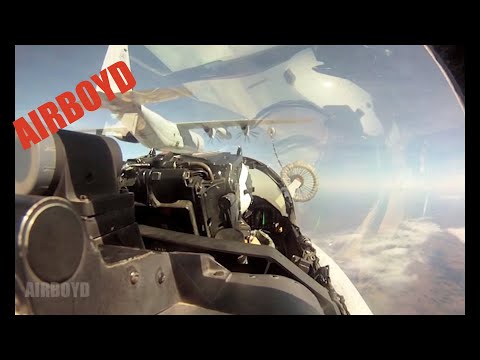 Flying a fighter jet has to be one of the few activities that triggers both excitement and terror. I'm sure a trained pilot experiences the former more than the latter, but I can only imagine the nerves needed to successfully dock with a tanker craft in mid-air. If you're curious as to how such a manoeuvre is conducted, here's a clip showing two F/A-18s hooking up with a KC-130, near the Royal Australian Air Force base in Tindal, Northern Territory.
---
According to several reports, Prime Minister Tony Abbott will today formally announce that Australia will buy 58 more F-35 Joint Strike fighters — bringing the planned F-35 fleet to 72 aircraft in total. The first Lockheed Martin F-35 Lightning II is slated for delivery in 2018 ahead of RAAF operation in 2020. But as technically advanced as the stealthy 5th-gen F-35 is, the program has also had its fair share of ups and downs. Let's take a brief look…
---
As if the new data retention proposals weren't enough to get you breaking out your tin foil hat, the Royal Australian Air Force (RAAF) has revealed that it wants to put seven massive surveillance UAV drones into active service by 2019.
---
It was just another ordinary morning in June, 1983 when Queensland dairy farmer Robin Priete looked up and saw something strange hovering in the sky. He phoned local police, who had it described to them as a large white light with flashing lights surrounding it. Normally the police would have written this off as a hoax or dismissed it as a crazy claim, but that's when three separate people reported seeing the same thing in the night sky. Elsewhere, the Air Force had seen it too, and started to get crews into their fighter jets to respond. Welcome to Australia's X-Files.
---
Score another one for Australians after inventing the didgeridoo and koala teddies: Their Air Force just got the first missile that can kill enemy fighters behind their F/A-18s, converting the hunter to (dead) prey.
---
Loading page