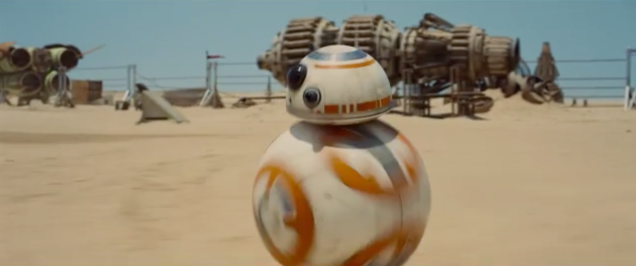 Perhaps the best part about the new Star Wars trailer was seeing BB-8, the adorable rolling ball robot in the new Star Wars movie, bounce and roll itself across the screen. It looked so familiar and so cute and so perfect as the new movie's answer to R2-D2. And the best thing about it? BB-8 is a real robot and not CGI.
---
---
If these kids trick-or-treated at my house, they would get every ounce of candy I had. [Buzz Feed]
---
For now, it's only the head in a custom-made R2-D2, but soon the whole astromech will obey the orders of an iPhone, including the possibility of firing sounds and send text to its head displays.
---
One Star Wars fan/PC modder built this R2D2 case from under $US120 in parts (spoiler: he started with a trash can).
---
Believe it or not, yesterday I learnt there are people who don't like beer. However, I'm sure they won't be able to resist the charm of Beer2-D3, which is as cute as B3-3R.
---