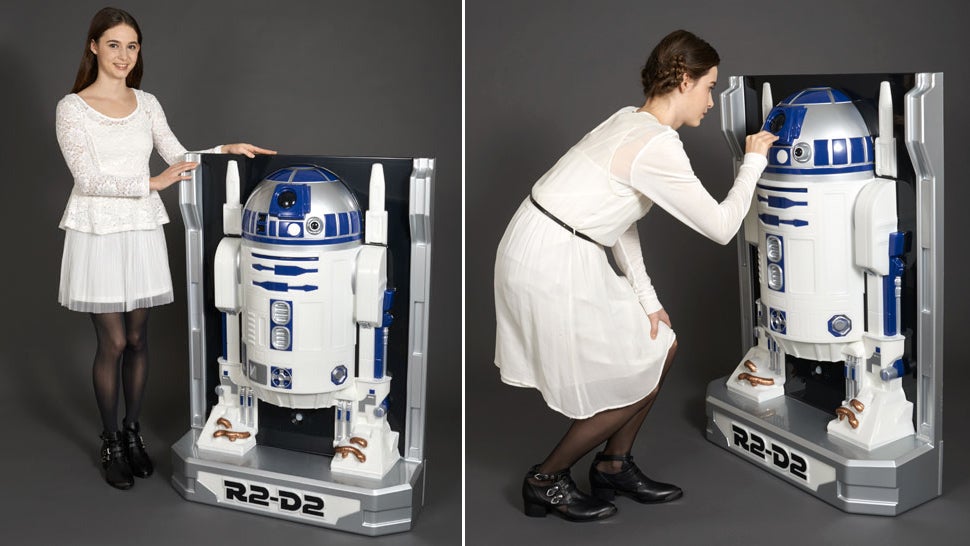 ---
If the Star Wars movies taught us anything, it's that it's always safer to travel with an astromech droid by your side. And while previous R2-D2-themed suitcases left us disappointed by their silence, this one actually lights up, beeps and chirps away at the push of a button.
---
As far as resumes for droids go, the skills and experience section on R2-D2′s must be at least 100 holograms long by now. This latest Star Wars tie-in sees Artoo back in the kitchen as a simple $US20 timer, counting off anywhere from one to 60 minutes with a quick twist of his rotating dome.
---
The detail on this 1:6 scale R2-D2 figurine is pretty much insane, especially since this type of toys are mostly, if not completely, static. Not this one. Everything opens and lights up in this R2-D2. It's pretty damn cool. Check out this video.
---
As far as movie sidekicks go, it's hard to find one as invaluable as Star War's R2-D2 was. That little droid was always in the right place, at the right time, with the right tool to save the day. And that now includes your kitchen with this R2-D2 measuring cup set that helps ensure your baking ingredients are always perfectly proportioned.
---
Your dream of cruising around your local galaxy with your feisty astromech droid by your side simply isn't going to happen in your lifetime. It will be years before robots can even pick up a wrench and remove a bolt by themselves. But ThinkGeek's got the next best thing. It won't fix your warp drive, but perched in your cup holder this tiny version of R2-D2 will keep your phones and tablets charged.
---
If that spunky little astromech droid can help whiny Luke Skywalker lead the Rebellion to defeating the Empire, surely R2-D2 can help you when your radiator's on the fritz or you have a flat tyre. In fact, who needs to pay for roadside assistance when you have what is arguably the real hero of the Star Wars films at your disposal?
---