A quadcopter outfitted with an on-board 3D printer could be used to seal off and transport nuclear waste, or even to build structures in the middle of nowhere, according to its inventor, Mirko Kovac of University College, London. "In effect, it's the world's first flying 3D printer," New Scientist writes. "One day such drones might work together to help remove waste from nuclear sites or help patch up damaged buildings."
---
Fireworks look awesome from the ground, but have you ever wished you could be inside them? Probably not because that's verifiably insane, but this quadcopter footage shows off how great the view is from up there.
---
DJI has been making remote-control quadcopters for years. Originally, you had to strap your GoPro to it, but last year DJI introduced the Phantom 2 Vision, which had its own integrated camera system. It was pretty sweet, but every tiny turn you took your video shook enough to scramble your viewer's brain.
---
What was the most memorable way you ever lost a tooth? For me, it was the day some girl karate kicked an incisor into the back of my throat at gymnastics camp. For this brave, young soul, it will almost certainly be the day his dad ripped his tooth out with a quadcopter.
---
With towering, crystalline halls of frozen water, ice caves are among the most visually arresting formations in nature. They're just a pain to explore given their often inaccessible locations and the inhospitable climate that allows for their development. But that's where the drones come in.
---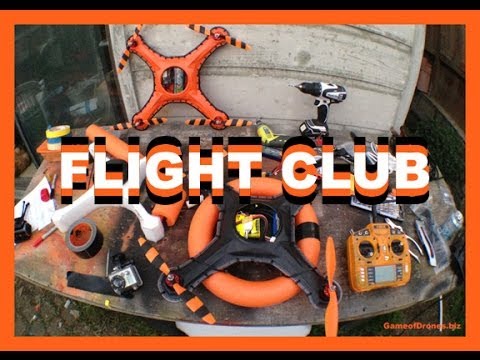 Following the popularity of those battle bots from a few years ago, it only makes sense that someone, somewhere, would pit quadcopters against each other in a battle to the death — or at least first crash.
---
They say the best quadcopter is the one you have with you (or is that cameras?) because not every opportunity to capture some glorious aerial footage is planned. So while you can spend thousands of dollars on a giant rig designed to hoist a heavy DSLR, why not save yourself some cash and opt for this wonderful $US495 Pocket Drone that folds into a case smaller than a 7-inch tablet.
---
It will be years before Amazon's dream of same day package deliveries via drone will ever become a reality. But you can forget about trying to shoot one down for some free electronics thanks to new software that allows a quadcopter to stay aloft — and on course — even after losing one or more of its propellers.
---
Four small corner-mounted rotors has become the most common configuration for autonomous hovering aircraft these days. But it turns out that if you're willing to add a few more rotors into the mix — like say 16 — suddenly you've got yourself an octodecacopter that's strong enough to carry a couple of human passengers.
---