Loading page
QR codes are certainly practical, but they're also dumb, stupid and ugly, and they instantly ruin almost anything they're placed on. That's why this tech that uses simple light as a replacement for QR codes is so awesome.
---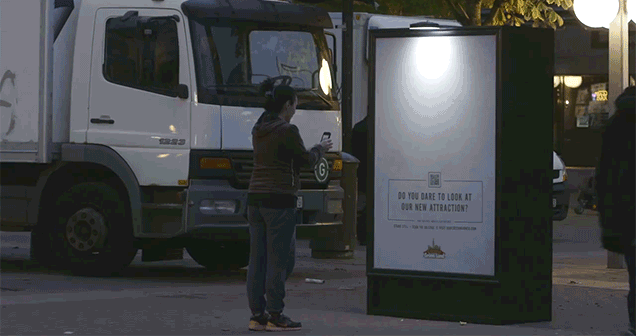 Giant poster ads are bad enough. But they're even worse when they suddenly come to life and attack you. As far as terrifying pranks go, this one is pretty high up there. And it just keeps getting better.
---
QR codes are a technology that desperately wants our attention. They appear everywhere from supermarket shelves and magazines to hiking trails and tombstones. Never heard of a QR code? You're looking at one right now. Scan the image at the top of this article, and it will open a link to the mobile version… of this article. Very meta.
---
It's generally assumed that robots will eventually take over all jobs currently staffed by humans. But tending bar could be one of the hold outs, if this Social Drink Machine is any indication. It lets patrons place orders through a combination of social media, mobile apps and QR codes, but in this case the whole is unfortunately not greater than the sum of its parts.
---
For all intents and purposes QR codes are a dead technology only being kept alive by marketing machine life support. For some reason advertising types think it's easier for consumers to snap a photo of a pixelated square than remember a URL, but as Michael Ciuffo points out with his obfuscated QR code clock, it's a "…technological convenience that really isn't convenient."
---
With technology like NFC on the rise, you might think the humble barcode might not be long for this world. As it turns out, that old medium has at least one more trick up its sleeve. Going tactile and operating with sound just might be what it takes to make barcodes cool (again?).
---
Loading page