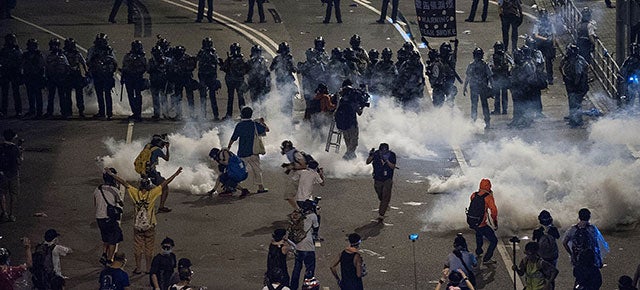 China is continuing its disturbing trend of social media crackdowns as pro-democracy protests flair in Hong Kong. Websites such as Blocked In China, which monitor the government's censorship of online services, confirm that the blackout spreads across the country.
---
Protests against new anti-democratic laws in Ukraine are increasing in intensity, with four citizens reported dead. As you can see in these extraordinary images by Ilya Varlamov, the demonstrators are using rockets made with fireworks. They look like scenes from some science-fiction movie about urban warfare.
---
The protests in Cairo are now entering their fifth week, and the crowd shows no sign of departing any time soon. Protestors are now "attacking" police helicopters with laser pointers, and despite the danger-factor, it's actually really beautiful to watch.
---
The tension in Turkey is quickly approaching its breaking point as thousands of protesters gear up for a third week occupying Istanbul's Gezi Park. This being the modern age, where computers fit in our pockets and everybody's a potential terrorist, some locals decided to take their little camera-enabled, radio-controlled quadcopter for a spin. This, again, being the modern age, police promptly shot it down. And yes, a drone was harmed in the making of this movie.
---
---
Today, animal rights advocacy group PETA, known for its provocative ad campaigns, finally launched the long-awaited peta.xxx adult website.
---
The Chicago Police Department has reportedly been hacked in advance of the NATO Summit in the city this weekend. Thousands of protesters are expected to show up, and the police are bracing themselves for riots. Why travel to Chicago when you can protest from the comfort of your home?
---