Photographer Leonie Versantvoort created this Bellypaint photo with body painter Marieke van den Dungen-Crone that cleverly and beautifully shows how a baby looks inside a pregnant mother's body. It's obviously not super scientific but it's really cool to see how a woman's body adapts it body to become a home for them little humans.
---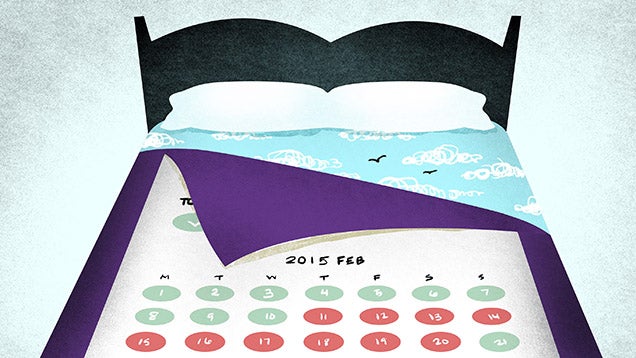 I don't need to tell you there's no great birth control option right now. Hormonal contraceptives are like a carnival ride for your mood, IUDs are physical sperm-gates that need to be surgically shoved up your vaginal canal, and show me someone who tells you condoms feel good and I will show you a liar. That's why the promise of hormone-free, noninvasive birth control with a smartphone app, crazy as it sounds, is so alluring. A Swedish app called NaturalCycles almost made me a believer.
---
Women have been manually tracking their cycles for centuries. You've likely heard the terms "rhythm method" or "natural family planning" from older generations; today, it's the more scientifically informed "fertility awareness". But as far as birth control options go, monitoring certain health cues to help women avoid getting pregnant still gets a bad rap — mostly because it's so subjective.
---
Last year, I sat in the bathroom of an Irish pub, trying desperately to solve a maths equation. I had abandoned my friends at the bar, where I'd been pretending to drink an IPA, to tend to this pressing arithmetic in private. If I solved correctly for 'x', the answer would provide me with some crucial information — whether or not my pregnancy was going well.
---
If you've never kept a diary or journal before, a pregnancy is probably a great time to start. Not only because of all the new experiences, but it will also probably come in really handy if and when you decide to have a second child. And what better place to document your thoughts than in a journal that's growing right along with you?
---
Nine women in Sweden have successfully undergone transplant surgery that saw them receive donor wombs from their relatives. The women, mostly in their 30s, will now attempt to have children where it was once thought impossible, having either been born without a uterus or having had it removed due to cervical cancer treatments.
---
Non-alcoholic beers take a lot of flack, and rightly so. The great majority of them taste like swampwater (and give you less of a buzz). But are any of them actually good? We tried 14 different non-alcoholic beers to find out. And the answer is a definitive yes.
Note: This is a US post, with US beers, though you can get some brands like Clausthaler in Australia. Some Giz readers have also suggested places like the Bavarian Bier Café may even stock Paulaner. We like beer, even fake beer. So decided to run the story despite its US-centric nature.
---
Letting future dads experience the best parts of a pregnancy minus the agonising pain of birth, Huggies has developed a pair of belts that translate the baby's motions and kicks from the mother's belly to the father's. Unfortunately, there's little to no chance it will be put into production and sold to the public.
---