This prank is such pure evil genius that you can't help but laugh. And feel bad because you'd get freaked out too. Funny man Jack Vale scared the creepy crawly goosebumps out of people by asking strangers to take his picture with his iPhone.
---
This absolutely amazing and terrifying prank, where a girl with telekinetic powers appears to freak out in a coffee shop, is actually a publicity stunt for the upcoming remake of the film Carrie. But that doesn't make it any less entertaining or awesome. Make sure you watch it all the way through, too, it just gets better and better.
---
Friends don't get better than this. They could always have your back, they could be your groomsmen at your wedding, hell they could even give a kidney to you and they won't ever beat these guys who pranked their friend by replacing his entire home plumbing system with beer. As in beers on every tap. It's a dream come true.
---
Teleportation is perhaps the dreamiest sci-fi invention ever imagined so it's no surprise that when a Star Trek-style Transporter pops up in a middle of a mall and promises real life teleportation, a crowd forms to ooh and ahh and secretly hope that it's real (no matter how unreal it is). Illusionist Scott Penrose created this teleportation prank that had people believing in all things Trekkie.
---
It's one of the oldest tricks in the book, but Jimmy Kimmel gave people on the street the iPad Mini and told them it was the new iPhone. Naturally, these poor, unsuspecting folks bought it hook, line and sinker.
---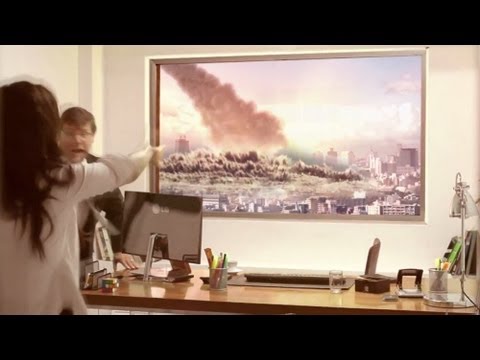 LG, maker of fine displays and wonderful prankster of innocent people, has cooked up another beautiful visual trick: installing LG 4K TVs as fake window units and tricking people into believing a meteor has crashed onto Earth. Because the screen is so clear!
---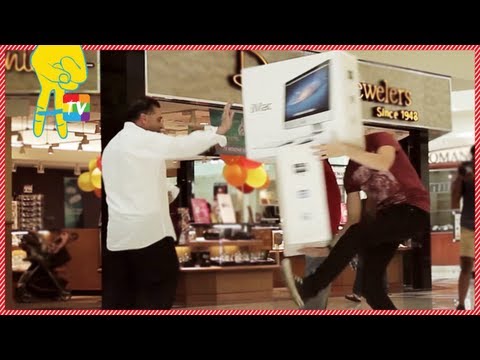 You know that soul-dropping feeling you get when you see someone drop their phone? It's the sound that's the most horrifying thing. A crisp crack that's not unlike adding ice to your drink. Painful. There goes hundreds of dollars! Now imagine that same feeling multiplied as you watch in horror as some stranger drops his iMac box and you hear the shrieking shatter. That would be awful. That would also make for a HILARIOUS prank.
---
Shopping for electronics already feels like some kind of hidden camera prank, with staff who never want to help and rarely know a thing about the gear they're selling. But an artist who refers to himself as Plastic Jesus — which apparently is not a gag — took things one step further by secretly stocking displays with a useless plastic box complete with a description of the non-existent product.
---