It's nice to know that humidity could weirdly be a force for good: Scientists have powered a tiny vehicle by using humidity as their fuel. That means evaporation could be an energy source for gadgets in the future.
---
The biggest concern about driving a Tesla on a giant, barren island at the bottom of the world is wondering where you're going to charge it. Tesla is hard at work rolling out Superchargers in Australia, but now there are a host of chargers at places you're already driving to thanks to something called Destination Charging.
---
To make it easier to manage the mountain of tools you'll usually find on a construction site, and to help deter theft, Dewalt is introducing a new line of Bluetooth rechargeable batteries that can be connected to a smartphone app for checking their charge status — or remotely disabling them.
---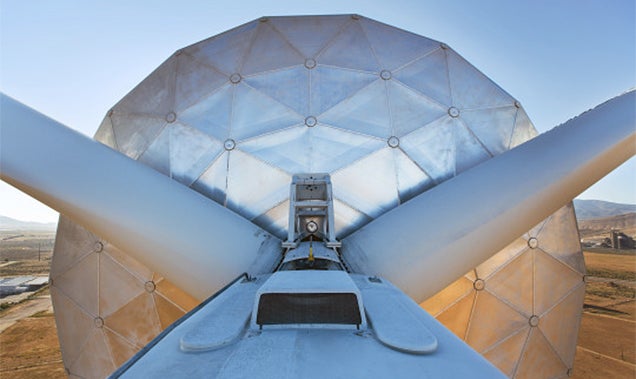 The larger you can build a wind turbine, the more power it can generate. But you can only build them so large before they're impossible to transport across the country. So GE's engineers have found a better way to improve their efficiency: a giant 9000kg dome strapped to the front of the blades.
---
Wireless charging isn't anything new, but it usually requires direct contact if not cables. But in Seattle, six houses have been rigged up to provide power to small devices using Wi-Fi routers.
---
Are you sitting comfortably? Good, because you're about to get a good old-fashioned dose of guilt. The folks at SciShow have put together a video examining how much energy we waste on running the internet, and the number is embarrassingly large.
---
---
Deep within the abandoned shell of the Fukushima nuclear power plant, it's too dangerous for humans to investigate — so it's being inspected by robots instead.
---
It's often the case that when a gadget is over-packed with functionality, usability is sacrificed and it ironically ends up being less useful overall. But the On The Go, which promises to replace your flash drives, portable chargers, and sync cables with a single multi-connector contraption, looks like it's managed to strike the perfect balance between form, functionality and ease-of-use.
---