Loading page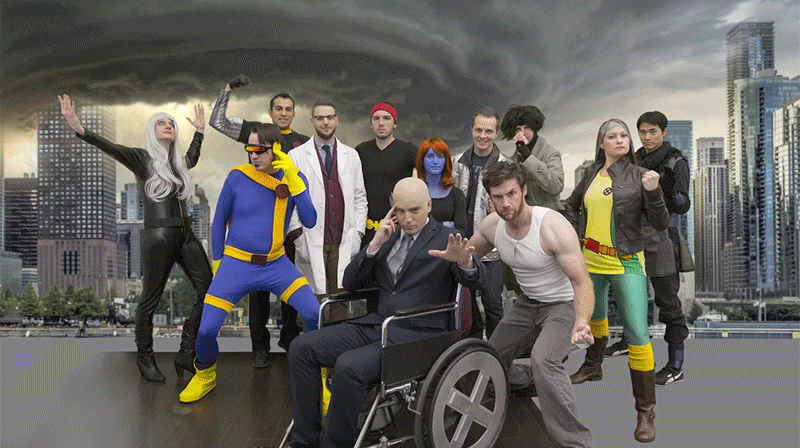 Video: Everyone should celebrate Halloween with graphic designers or expert Photoshoppers because they can turn silly group pictures on Halloween into a truly epic photo that looks more like a movie poster than something you'd be embarrassed to have on Facebook. Designers at Clearlink dressed up under an X-Men theme and then Photoshopped a group photo to epic proportions.
---
British Prime Minister David Cameron is struggling to catch a break at the moment. Though he (probably) wasn't actually at fault, his representatives certainly were: they uploaded a very-obviously-doctored picture of the PM to the official 10 Downing Street Facebook page, and caused more than a bit of a stir.
---
People spend years mastering the tools of Photoshop. They labour arduously to create seamless images with no trace of manipulation. Lucas Blalock labours arduously as well. But in his art, the artifacts of cutting, duplicating, and transforming become the very backbone of the finished product.
---
Life was basically impossible without Photoshop. The process and tools it took to get images and type set just the way you wanted took an eternity. There were no shortcuts! You needed a rapidograph pens, T-squares, rubber cement, exacto knifes and so much more just to do things Photoshop now does in one or two clicks.
---
---
This is super cool, for both the slick visual effects we see and the clever behind the scenes work that allowed it to happen. Photographer Aaron Grimes made this video of Tokyo, IN MOTION, and blurred certain movements of the city and its people by stacking frames of multiple shots he took and then taking those stacked frames to create a video.
---
The retoucher Elizabeth Moss has decided to give us a behind-the-scenes look at the world's high-end photograph retouching. In a series of timelapse videos, she boils down hours of laborious retouching into mere seconds, and the results are pretty crazy.
---
Loading page