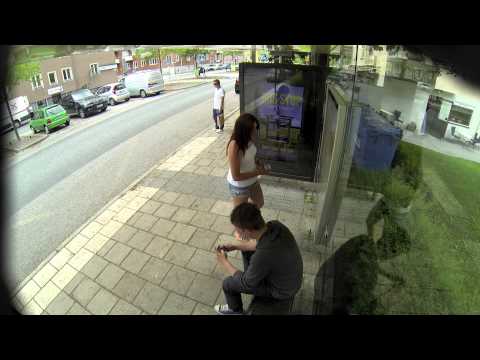 Wouldn't you be shocked if you were waiting for the bus, and you saw yourself magically appear in that Gap ad at your stop? Yup. And so were the victims of this delightful Photoshop prank by artist Erik Johansson and Adobe.
---
What do you Instagram? Food. Cupcakes. The beach. The beach with your sandy feet. Clouds. Dogs. Beer. Selfies. High heels. Forgotten Nights. TBTs. And maybe on some off chance a blurry photo of a celebrity you saw on the street. Or on a magazine. Or in a movie. You're certainly not as hilarious as Peeje T. He perfectly photoshops celebrities into his Instagram. It's wonderful.
---
This hilarious parody video imagines what would happen if Adobe introduced some of the tackiest elements of digital design ever to Photoshop and the rest of its design products. It's funny because humans have terrible taste.
---
Photoshop has changed the world, but it's not content with just the future; it's going back to grab the past too. These digitally modernized portraits of historical figures were put together to promote History TV's new series, the Secret Life Of…, and will make you wonder if maybe you've passed a modern-day Shakespeare on the street in Williamsburg.
---
---