Well played. Ad agency Victors & Spoils poked fun of mass media's tendency to turn normal humans into plastic Barbie and Ken dolls through their abuse of Photoshop by, well, using Photoshop in reverse. That is, they took a viral photo of a girl in a bikini that had been heavily altered and added more alterations to the original alterations to transform the skinny Barbie into a fat Santa Claus. The power of Photoshop swings both ways.
---
Given his long, illustrious career as the world's premier totalitarian Photoshop expert, it should come as no surprise that, after sentencing his own uncle to execution, Kim Jong Un has ordered that the rumoured counter-revolutionary be airbrushed out of a state-sponsored documentary.
---
Don't ever believe photos you see in magazine spreads. This video explains why in 30 seconds better than we ever could with words.
---
If you've stared in awe at the recent influx of colorised black and white photos popping up online, wondering just how someone was able to bring such life to an image, here's your answer. Mads Madsen, a talented 18-year-old Photoshop artist, has created a detailed six-minute video documenting the process he uses to add colour to historic images.
---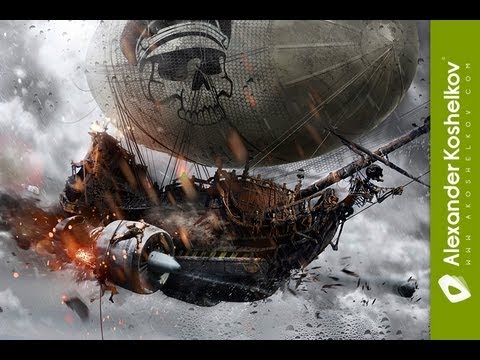 Skilled artists can produce amazing works from nothing, though we're often only shown the result, with no sense of the time or effort that went into their creation. Fortunately for us, graphics designer Alexander Koshelkov had the forethought to record the process behind his latest piece — a 284-layer wallpaper showing two airships going at each other with cannons — and compact it into a nine-minute video.
---
At this point doctored and enhanced photos are so ubiquitous that we tend to assume any photo we're looking at has gone through some type of processing. And programs like Photoshop are always releasing new tools and features to make these changes easier. But revising a photo for positive or nefarious reasons still takes time and skill. Luckily, we can count on internet denizens to have a lot of free time.
---
What could be a better use of Photoshop filters than filtering Photoshop? That's exactly what Device did in this delightfully meta little Photoshop tribute. Warning: you might want to turn down your volume a bit.
---