Alexander Graham Bell may have invented the telephone in 1875, but the first phone installation didn't come about for another three years. And that's what makes these photos from 1887 so incredible; this tangled mass of telephone wires had already wound itself around New York City's streets just seven years after that first installation.
---
I think ice skating at Rockefeller during the holidays looks more professional than this. But it was Lake Placid, NY, USA in 1932, and it was only the third Winter Olympics and what they were doing was probably groundbreaking stuff. There were only four sports! 14 events! 17 countries! 252 athletes! It's like going up to the mountains with your friends.
---
---
Performing a midair fuel transfer between aircraft is among the most technically challenging maneuvers in aviation, especially when flying a prop-driven, WWII-era C-97 Stratotanker. That's why neophyte pilots spent hours at the controls of this life-size simulator before they ever set foot in the real thing.
---
These days we all love computers, but when they first arrived on the scene they had a few… glitches. So, instead of people punching their computer, they could take their stresses out on the technological equivalent of a stress ball: a Smack-a-Mac.
---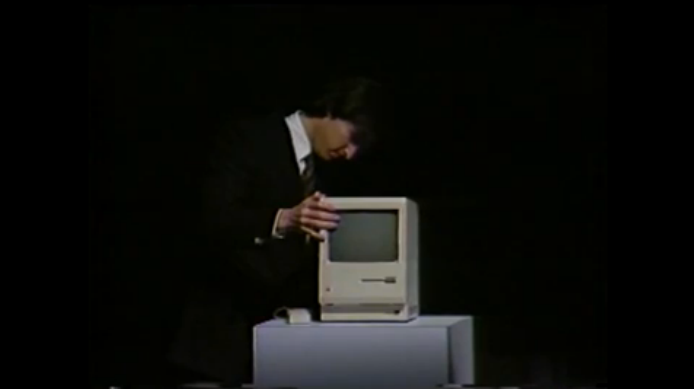 Thirty years ago, the landscape of personal computing was vastly different. It hardly even existed, compared to what it is today. Footage of the Mac's initial unveil is out there, but this second, more polished run — a presentation for the Boston Computer Society — hasn't been available since the event itself back on January 30, 1984.
---
Vinyl may have had its day — hell, some readers of this site may never have seen it in action — but for a small group of dedicated fans, it still lives on. This amazing 1956 video explains the process, which has actually changed very little over the last 50 years, of transforming performance into long-player.
---
The old town of London never changes. Or at least, it changes very, very little. Just watch this side-by-side footage showing life in 1927 London and life in 2013 London to see how much the city has stayed the same. And sure, the streets might have slightly newer cars on them with street lights and freshly painted lanes but many of the same buildings are still up in London after over 85 years and everything else seems pretty much exactly the same.
---