The Anacostia River that runs through Washington DC has historically been known as, well, not the cleanest river in the United States. A new elevated park straddling the river plans to filter the dirty water with a waterfall feature (apparently projected with Frederick Douglass's face). It's the winning design announced today for the city's upcoming elevated park.
---
Not to be outdone by New York City's beloved High Line (the final, most unwieldy phase of which opens this fall), Washington DC is planning its own elevated park, which will sail over the Anacostia River on a former freeway bridge. Four visions for the park have been released as part of a competition. And they're all very exciting for the city.
---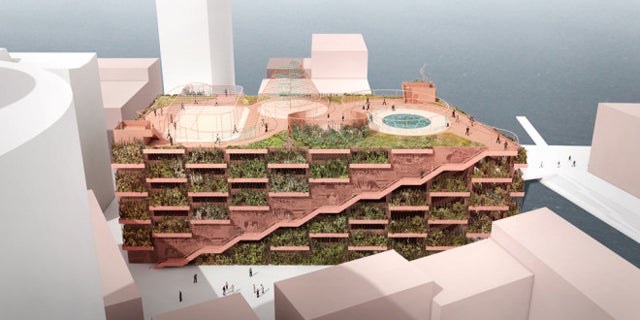 ---
---
Los Angeles is a big place — over 1000 square kilometres. Even though it's home to the country's largest urban park many of its residents do not have easy access to a public green space. A new "interactive interpretive" urban trail system hopes to close that distance, while connecting Angelenos to the hidden cultural and fitness opportunities in their city.
---
Guelph Park in East Vancouver was just like any other under-appreciated park in a city near you: grassy but forgettable. Until a fake sign was erected in one corner by a local artist, christening it with a new name: "Dude Chilling Park". Suddenly, Guelph/Dude Chilling Park became a global sensation.
---
When we asked you last week to send us the weirdest monuments in your neighbourhood, you not only delivered, you quite frankly freaked us out. How do you people sleep at night knowing that a giant turtle-humping statue is just down the street?
---
It's easy to forget that beyond the tourist- and greenery-covered High Line, there are still 300 yards of old, rusting train track. This last patch of decaying NYC railway will soon be turned into the final stretch of the super-successful park — but for now, they're home to a little-known outdoor gallery.
---
I'm not gonna lie: It's a lot like meeting Oz in his Emerald City. Mostly because no one associated with him would set up a formal time for me to meet with Tony Hsieh, CEO of Zappos and the financial and philosophical force behind the Downtown Project, the $US350 million urban revitalisation program transforming downtown Las Vegas. I was encouraged instead simply to "find him" at one of the events happening the week I was in town.
---