---
"It's not the fall that kills you," as the saying goes, "it's the sudden stop at the end." Humans are a rather splattery bunch when dropped from a sufficient height, but that hasn't kept us out of the sky. Instead, we've spent centuries perfecting the process of controlled falling to make the stop after any fall as soft as possible. The result: the modern parachute, a canopy of silk and nylon, and engineering genius.
---
Don't watch this video. No, seriously, it's really rough. The best thing is that Matthew Gough, the guy who plummets while base jumping, actually survived the fall with only minor injuries. He hit the ground at 60km/h from a 30m cliff because his parachute malfunctioned. The footage is taken from his helmet cam.
---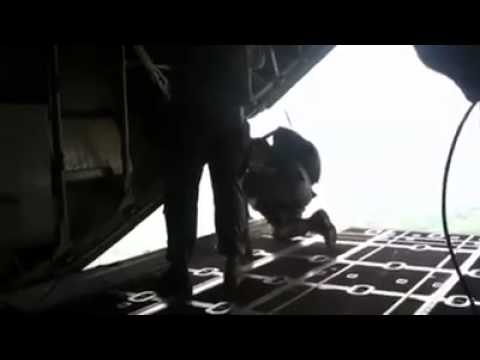 Wait for it. Wait for ittttt. Waaaitttt forrr itttt. Waai… and then boom, there it is. This poor guy accidentally deployed his parachute too early. So early that he was still on the plane.
---
Witness these people speed flying down the Mont Blanc. It takes 10 minutes of pure joy and freedom to go from its summit to its base. I saw the whole video wishing I was one of them — with every cell in my body.
---
This is Greg Gasson, and he's either the bravest or craziest man alive. Why? He has a habit of jumping out of planes without a parachute. Sure he brings one with him — nobody's dumb enough to leave home without it — but it's not like he wears the thing.
---
Sometimes, when you need a truck somewhere, you drive it there. Sometimes, you parachute it out of the back of an aeroplane. We're not exactly sure what the story is here – probably a military exercise – but the speed with which those trucks launch out of the plane is pretty spectacular. Make sure your toe doesn't get caught.
---