---
When you combine three nice things like grandmas and weed and doing something for the first time, well, you get something wonderful. Watch as three grandmas smoke weed for the first time and hang out with them as they get high. They laugh, they get the munchies, they don't always make sense and they want to smoke more.
---
These sculptures by London-based artist Jonty Hurwitz are so small that are impossible to see with the naked eye. They are smaller than a hair and a bit bigger that a human sperm but, despite their size, the level of detail is just insane. NSFW for tiny naked women.
---
Acute subdural hematoma is the technical name of one of the deadliest of all head injuries. This video shows how you get rid of it, which involves opening the brain and removing the clogged blood. It's really gross, but incredibly fascinating too. Warning: STRONG IMAGES.
---
I love Bryan Ferry's new Loop De Li song, from his new album Avonmore. His captivating voice and his classic Roxy Music sound are back as powerful as ever. The disturbing video directed by Aoife McArdle is great, featuring what it looks like a-clockwork-orangy, sexually-ambiguous young Ferry. Warning: NSFW.
---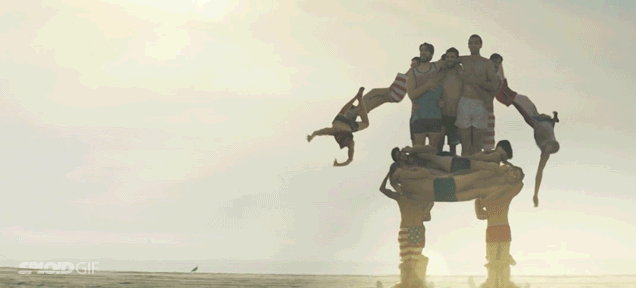 ---
The explosion of unmanned aerial vehicles in recent years has created a revolution in videography, which is why it's surprising that nobody bothered to make porn from the skies yet. Lo, here is Drone Boning.
---
Video: Check out the latest hit at Japanese parties: $5000 latex dolls that pour drinks from their nipples when you squeeze their boobs. It looks disturbing. What's going to be next, Japan? Male and female android fountains wandering around parties serving drinks from their lower naughty bits? But of course.
---