Video: Check out the latest hit at Japanese parties: $5000 latex dolls that pour drinks from their nipples when you squeeze their boobs. It looks disturbing. What's going to be next, Japan? Male and female android fountains wandering around parties serving drinks from their lower naughty bits? But of course.
---
Video: As you could imagine, all those sex scenes that look so hot on the big screen are actually quite awkward while filming. Check out this behind-the-scenes clip of Brooklyn Decker and Patrick Wilson trying to get into it while they get sprayed with fake sweat on the set of Joe Carnahan's movie Stretch.
---
PornHub seems to be the porn benchmark of the internet. Here you have a fascinating visualisation that shows you the most viewed videos in relation to their category. On the left you can see all the videos ordered by views (3.2 billion in total!) On the right you can see the 15 categories they belong to. NSFW warning.
---
Searching for porn on the internet just got easier (not that it was hard before). Boodigo, a porn search engine created by porn producer Colin Rowntree and ex-Google programmers, filters out the web's non-sexy content to get you exactly what you're looking for. No more pictures of old brass instruments when you search for rusty trombones. Boodigo goes straight for the gutter.
---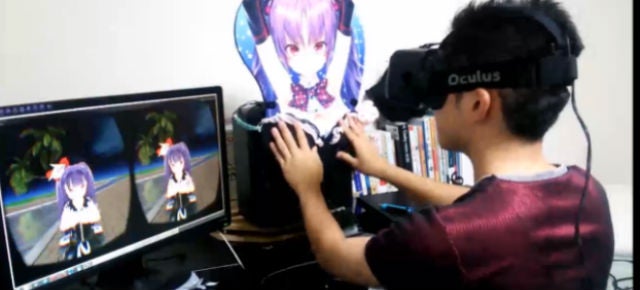 You can do some cool shit with the Oculus Rift: You can simulate what flying feels like, or use it to pick out your next car. And if you have less experience with the female anatomy than Steve Carell in The 40 Year Old Virgin, now you can use it to simulate grabbing a handful of boob.
---

Tech companies have a pretty awful track record where talking to women is concerned. But after running damage control on horrible campaign after horrible campaign, you'd think they'd try to avoid making the same mistakes again. And you would be wrong. Enter OnePlus' new lovely-ladies-only invite giveaway. Because, as they say, "chivalry is not dead".
---
Video: If you don't know Paolo Nutini, I don't blame you. I just learned about this British singer when I saw this video of his song Iron Sky. It opens with a hard-to-watch 2-minute silent intro — and then the beautiful music hits contrasting with the lives of pariahs, the mentally insane, the junkies… It knocked me out.
---