Loading page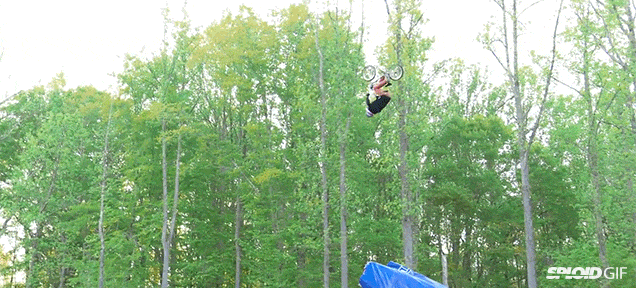 Video: This just doesn't seem possible. Even after watching Jed Mildon nail the world's first ever BMX quadruple backflip, it doesn't seem like it could happen in real life here on Earth. And that's pretty much true! The video below shows the bad falls and crashes and body slamming it took to get this stunt down and it's a miracle he was able to pull it off.
---
Video: Wow. Even this non-extreme, speed limit obeying, eight cups of water a day desk sitter can acknowledge the pure awesomeness and sheer audacity of this triple backflip stunt by rider Josh Sheehan. It's a TRIPLE backflip sake. You have to flip back and rotate THREE times and then stick the landing. It's the biggest trick in motorbike history.
---
It's amazing the new tricks that people can just invent with their bikes. Once you think that everything has been done before, someone decides to murder the laws of physics. This new trick though might be more impressive because I'm getting the spins just looking at it. How does the rider manage to land such a violent combination of a front flip and forward bike flip in one leap? Amazing.
---
We no longer live on Earth, my friends. We're in some weird world where people can do the impossible. Do you want to fly? You should try. Do you want to spin in the air in both directions? I think you can. Because this insane Superman double backflip bicycle trick destroys everything that should be humanly possible. The rider does a full back flip while fully extended in a Superman pose, somehow re-gathers himself onto the bike and then does another full back flip. All in one jump. Sweet.
---
Loading page