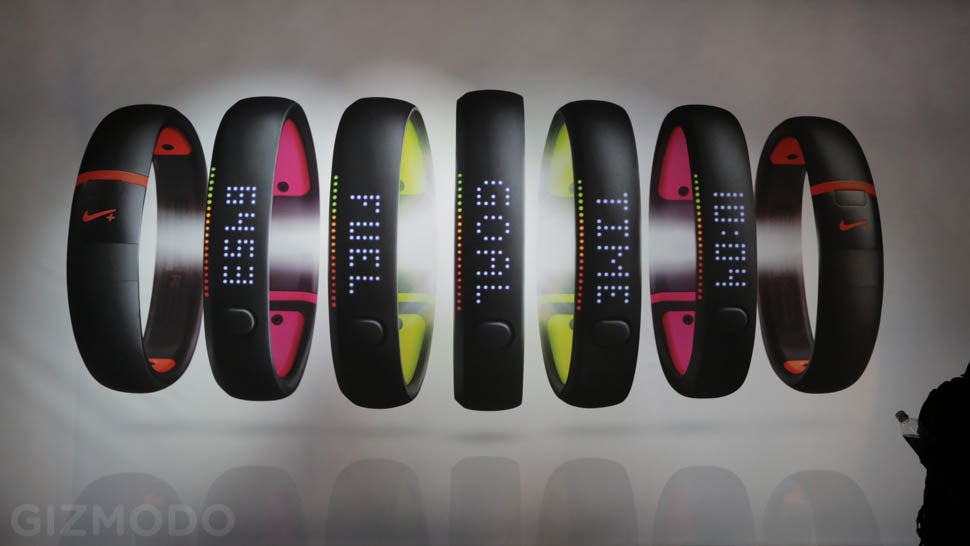 Nike has fired the majority of the team responsible for its FuelBand fitness tracker according to a report from CNET today, which also claims that the company is jettisoning wearable hardware for good. An anonymous source says that roughly 55 employees were let go from Nike's Digital Sport hardware team, which covers industrial design and engineering for wearables.
---
The use of 3D printers has allowed Nike's designers to prototype and test new footwear designs with a remarkably quick turnaround. And the latest shoe born from that new process is the Vapor HyperAgility cleat featuring re-engineered studs that Nike claims will give football players the necessary grip to explode off the line, but also stop and turn on a dime to evade an opponent.
---
If there was one disappointment about Nike's awesome Back to the Future II Air Mag, it's that the shoes didn't have Marty's power laces (and that they only made 1500 and neither you nor I own a pair). But Nike designer Tinker Hatfield says that's about to change — power laces are coming in 2015. The future is here!
---
Almost a full year ago, Nike introduced its first shoe ever built with the help of 3D printing technology. The thing was, that cleat, the Vapor Laser Talon (seen below), was built for an absurdly specific purpose and market — just the 40 yard dash, just for NFL players. Now, though, Nike is bringing what it's learned from the VLT to the consumer market — innovations that, without 3D printing, we might not have seen for years to come.
---
Nike doesn't realise it yet, but it could single-handedly make your fridge the most entertaining spot in your home — at least if you're a sneaker freak. Because instead of poetry or Scrabble, the shoe maker has created a wonderful set of magnets that lets anyone be a sneaker designer, as long as you're OK with never being able to wear your creation.
---
It's baffling to think that it's taken until the year 2013 for Hasbro and Nike — two of the most powerful brands from the 1980s and 1990s — to finally team up and pay proper tribute to one of the best cartoon bad guys of all time. And while this isn't the first Nike and Transformers mashup, this amazing Megatron-themed set of shoes are the first that self-respecting Decepticon fans might actually want to wear.
---
The FuelBand was Nike's first foray in fitness trackers, a sleek, stylish piece of wristwear that served as a constant reminder to be less lazy. The FuelBand SE is its wearable tech successor. But aside from a new splash of colour on the band, it doesn't offer many more ways to make you move your butt.
---
First and foremost, a good pair of snowboarding boots should get you down a slope safely and with a good measure of comfort. But Nike also wants you to be noticed, particularly if you're competing and need to impress a bunch of judges. So with its latest snowboarding boot — the LunarENDOR QS — Nike's enhanced its iconic swoosh logo with 30 glowing LEDs so that when you're pulling a spiralling Double McTwist 1260, you'll be an impossible to miss swirl of blue.
---
We've all felt it: The unique kind of envy that results from encountering something you want, but can't afford. For some of us, it's the new iPhone. For others, it's a hot tub boat. For artist Jason Ruff in his younger years, it was sneakers and cigarettes — which serve as materials for his latest project.
---
Nike's newest iteration of its signature activity tracker seems… fine. It's slightly more water resistant, it has some new tapping functions, and it's added Bluetooth 4.0. That's good! But the real question is whether it's enough of an upgrade to keep up with an increasingly crowded field of activity trackers. Here's how it compares.
---