New Zealand's ChristChurch Cathedral was seriously damaged in a 2011 earthquake. The historic place of worship is going to be remade soon, but how? The city's Anglican diocese, the property trustees and the cathedral project group have come up with three different options the remodel, and anyone can vote.
---
---
This video is stunning. Made by visual effects artist Mark Gee, the real-time video shows the moon rising over Wellington, New Zealand. It's incredible to see the dark sky filled with the gigantic glowing orb. Just seeing that off-white colour float up makes me more excited than any sunrise ever.
---
Adam Crouchley loves Apple. He had an iPhone 4 and recently upgraded to an iPhone 5 and freely admits that he's deep into the ecosystem. You might remember a little while ago, Adam and Apple had a bit of a falling out. No, this isn't a biblical story involving a snake and a girl, instead it's the story of how one New Zealand man took the world's largest company to task and won.
---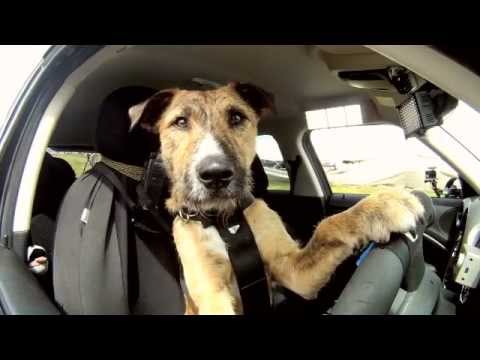 Attention: You are about to watch dogs — who mere months ago were roaming the streets of Auckland homeless — drive cars. My grandma isn't even allowed to drive anymore, but these canine chauffeurs are completely street legal because they actually passed their drivers' tests. Seriously, New Zealand, is everything OK over there?
---
With the theatrical release of Peter Jackson's The Hobbit just weeks away and the official premiere behind us, the world is slowly going to become more Lord of the Rings crazy. You'd think the Kiwis would be over the attention. No, not really. Turns out they're still very much into it, as NZ TV host and weatherman Tamati Coffey demonstrates with this forecast, delivered mostly in Elvish… dressed as an elf.
---
Kim Dotcom's dream of hosting the follow-up to Megaupload at Me.ga fell through last week when Gabon's government objected. No worries: it will now appear at the rather less snappy Mega.co.nz.
---
Apple has been involved in lawsuits all over the world in the last two years. From a billion-dollar windfall in the US to bitter defeat here in Australia, the Apple legal team has had nothing short of a rollercoaster time of it. Now Apple is in legal hot water in New Zealand, not against another tech giant, but against a disgruntled customer over a $NZ35 purchase.
---