As a kid, I strapped a Nerf gun to my bicycle so I could dive bomb the neighbourhood kids while travelling — I imagined — at five times the speed of sound. As an adult, I've carried a foam-firing blaster to no fewer than three jobs. But a funny thing happened earlier this year: I realised my old guns weren't any good anymore.
---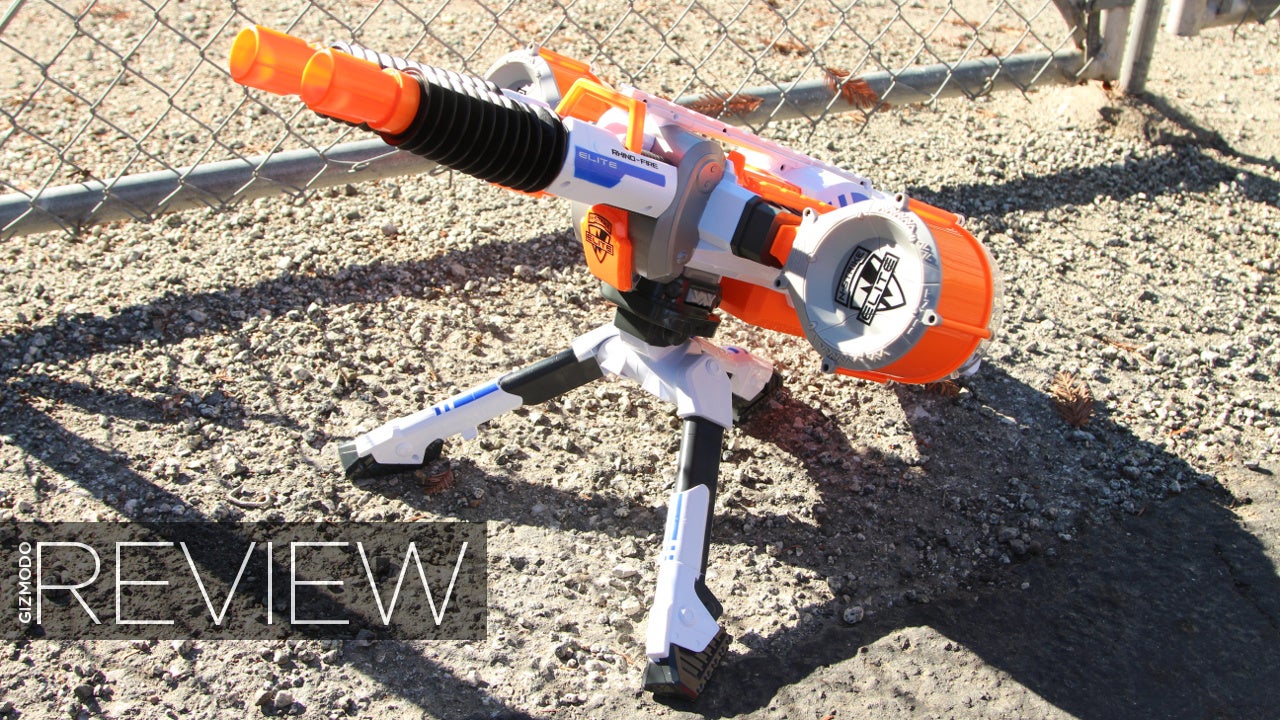 ---
A Nerf gun is never not fun. If you see one of those laying around anywhere, at a toy store, in the office, in a kid's bedroom, in your dreams, you have to pick it up and get goofy with it. So how can you have more fun with something our DNA says is never not fun? By adding explosions like mad genius Colin Furze.
---
Nerf guns are great fun, but they're not exactly cheap things to buy in large quantities. So why not print your own?
---
Although they're still designed with kids in mind, who among us doesn't have a Nerf blaster tucked away in a desk drawer, or hidden inside a carved out phone book? Office warfare can flare up in a heartbeat, but with Nerf's recently leaked N-Strike Elite Rhino-Fire blaster at your disposal, you've already won the battle before it started.
---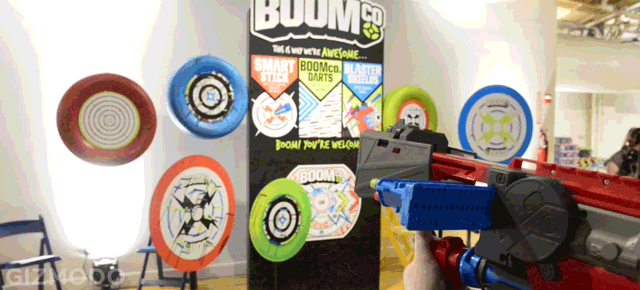 Nerf better be watching its back. Because after testing out Mattel's new BOOMco line of dart blasters, we are happy to report the secret formula backing its new Smart Stick darts works like magic — and makes for one hell of a good time.
---
Imagine walking into the world's biggest toy store except that everything you see is completely brand new — and you can't buy any of it just yet. That's exactly what covering Toy Fair — the toy industry's annual trade show — is like. It's a tantalising glimpse into what kids will be begging their parents for over the upcoming year, and we've sifted through all the hoopla to bring you the best of the best.
---
Robots and Nerf, two toys that are the staple of every child's messy bedroom floor, are finally coming together in what could be one of the best (and safest) ways to harass your siblings, parents, and even co-workers. Because Hasbro's new Combat Creatures let you remotely unleash a barrage of foam darts from a safe distance.
---
Are kids bigger little scamps these days or are they just leaving more evidence? Unclear, but they sure have cooler toys, among which they can soon count Nerf's new N-Strike Elite Cam ECS-12 Blaster, a crazy gun that records and plays back your target practice right on the crosshairs — and leaves plenty for the mounting evidence pile.
---
Thanks to LA-based DKNG Studios, you can get a headstart on warm weather fun with these awesome prints featuring comprehensive illustrations of the Nerf and Super Soaker product lines. At one time or another we've all owned at least one of these weapons of mass annoyance, but if your arsenal was sold off at a garage sale years ago, these prints make for a wonderful trip down memory lane.
---