Loading page
Our ragged group of survivors shifts nervously, ready to cut and run at the first sign of danger. A horde of zombies ambles slowly towards us, a distraction from the lone runners slipping around the sides to try and catch us off guard. "Hold the line!" someone shouts, but we all know that if it came to it, we'd turn on our fellow survivors if it helped us get out alive. This is Zedtown.
---
Every child and every adult who wants to be a child again loves a good Nerf gun. They're fun to shoot, whether you're playing in your yard or across cubicles, and they're fun to be shot at with, because Nerf guns are mostly harmless. Well, the game done changed. Mark Rober has invented the world's biggest Nerf gun and it is beyond awesomely badass while being totally hilarious.
---
Originally unveiled at last year's Toy Fair, Nerf is expanding its Rival line this year first with the fully-automatic KHAOS MXVI-4000 we brought you back in January, and now the pump action ATLAS XVI-1200 that fires two rounds at your target with every squeeze of the trigger.
---
If you're on Facebook at all, you might have recently seen an event titled 'The Best Nerf War In History'. It has a meagre description, and a few photos of the old military fort at Sydney's Middle Head — although the combination is enticing for anyone with an active imagination. We spoke to the organisers to see how an event that was never meant to happen ended up with over 9000 people keen.
---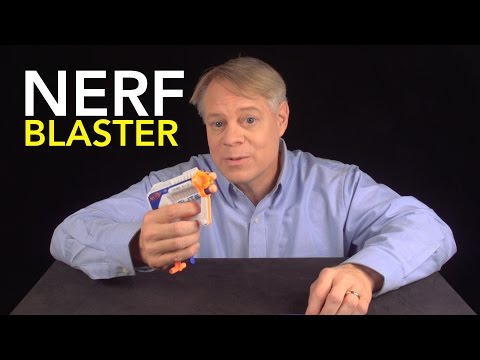 When wandering the aisles of your local toy store, it's pretty easy to write Nerf guns and blasters off as just toys for kids. When you take one apart, however, you realise how much engineering has gone into shooting foam bullets. Let an engineer explain.
---
How cool would it be to get 500 people together in an open world environment, arm them with Nerf guns and fill the space with zombies to see who could survive the night? Pretty goddamn cool, in my opinion. This is Zedtown: a 500-player, real world zombie survival game set in the confines of Sydney University, and it's on again.
---
The sounds of the night ripple through the lining of your tent. It's a cold night, but the skies are clear. Perfect conditions to spot them if they ever break through the tree line across from you. You poke your head out of the flap to scan the terrain. A twig snaps outside to your left. They're coming. You load your clip into the slot in your orange rifle, and pray that it'll be enough to hold them back.
---
If you're anything like me, you spent the weekend raiding the Big W toy catalogue looking for cheap Nerf guns. Whether you walked away with a foam-firing pistol, bright yellow rifle or clear perspex chain gun, there's still the question of storing your new arsenal. Try this idea from one of our awesome readers: a Nerf gun trophy case.
---
Loading page