45 years ago today, a man landed on the moon for the first time. Understandably, he was a little nervous. Neil Armstrong's heart raced to 160 beats per minute as the lunar vehicle touched down on the moon's surface. But as he made that great leap for mankind and walked around the moon, his heart steadied and slowed. The rhythm of his heartbeat, which Berlin-based singer Louise Gold captured off of a radio program, become the basis for her cover of John Lennon's "Oh My Love".
---
To celebrate the 45th anniversary of Neil Armstrong walking on the moon, Nike has made a pair of shoes that will make you feel like every step you take is on the moon. Because of the all over lunar print, the silhouette of the shoe completely disappears and makes it look like the shoe is made from moon rock.
---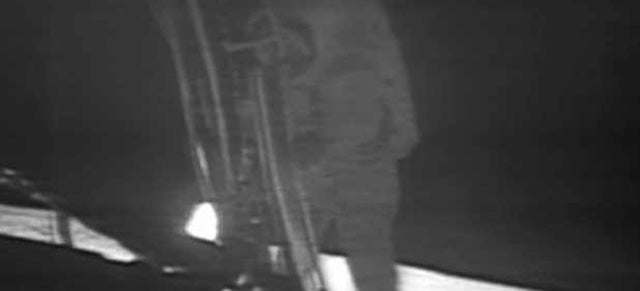 ---
US Navy pilot, war veteran, aerospace engineer, astronaut and first man on the moon Neil Armstrong was also an incredible test pilot, with 900 flights in experimental aircraft including the dangerous Lunar Landing Testing Vehicle. On 6 May 1968, he almost died flying one. This is the video of the crash.
---
Neil Armstrong was commander of Apollo 11, the first astronaut to ever set foot on the moon, and a man whose accomplishments were legendary and far-reaching. But he was also an irrepressible nerd in love with mathematics, science and engineering. This is his manifesto.
---
Neil Armstrong. The first man on the moon. Space legend. Buried at sea, this is how NASA remembers him. Watch it yourself and see how he touched everybody's life. [NASA]
---
Apollo 11 was a resounding success from start to finish. From the minute the rocket left the pad through to landing on the moon and right back down to Earth, it was a day etched in human history forever. Safety wasn't always guaranteed, though, as evidenced by this condolence speech then-President Richard Nixon had prepared in case everything went sideways.
---
He was the first man to walk on the moon, but Neil Armstrong didn't have any good photos to prove it. He was holding the camera most of the time, so it was Buzz Aldrin who got all the awesome shots. Here is the only image that clearly shows Armstrong's face as he walks on the moon, freshly dug up from archives of old NASA photos.
---