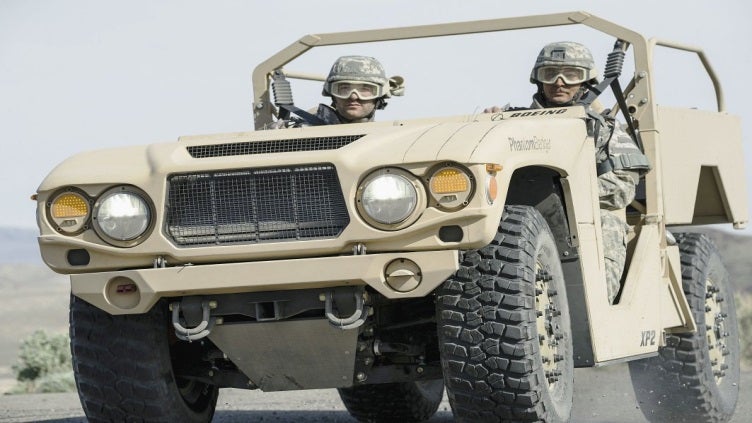 US ground forces are about to get an awesome new whip from Boeing's Phantom Works: a petite combat support vehicle combining power, speed and all-terrain traction to deliver soldiers to just about anywhere on Earth — without all the hiking.
---
The MQ-8 Fire Scout might be the US military's marquee pilotless helicopter, but it's not the only one. A pair of R/C Kaman K-Max K-1200 choppers have proven their value resupplying forward operating bases in Afghanistan and, now, the DoD is developing a system to turn any helicopter into a remotely operated whirly bird.
---
It's been almost a year and a half since we first reported on the US Navy's plans to produce cheap liquid fuel from seawater. And, as a proof of concept, the unmodified two-stroke engine in this P-51 Mustang remote control model plane was recently powered using the new liquid fuel instead of traditional petrol.
---
Because most of us will never take the literal leap of jumping off a damn plane, here's POV footage from the Leap Frogs aka the US Navy's parachute team. For the San Diego Padre's home opener, the jumpers took off in a plane and landed right smack inside Petco Park. You can hear the roar of the crowd grow louder as they get closer.
---
When we think of the future of the military, we think of bigger and better weapons. Laser canons and the like. But what about the people operating those lasers? How can a behemoth like the US Navy ready its future sailors for the high-tech combat of tomorrow? Believe it or not, with an Oculus Rift.
---
While US military has had its fair share of bungled development programs — just look at the V-22 Osprey or the littoral combat ship — the ill-fated A-12 Avenger II is a strong candidate for the worst. It was so poorly managed that, if completed, the program could have sunk nearly all of the US Navy's budget.
---