We all know by now that 3D printing is the future of manufacturing — even the US President says so. The march of progress doesn't always move as quickly as we'd like, however, especially when the military-industrial complex is involved. While 3D printing machines are becoming steadily cheaper and the possibilities incredibly sophisticated, the disparate branches of the US armed forces tend to move slowly, weighed down by procedure and convention. However, there's plenty of evidence to believe that's changing when 3D printing is concerned.
---
---
America possesses the most formidable naval fleet in the world. However, the face of oceanic warfare is rapidly evolving and bears little resemblance to 20th century sea battles. Naval dominance is no longer decided in the middle of the Pacific or Atlantic, but rather in shallow territorial waters. To meet these new offshore challenges, the US Navy has spent years and billions on a new class of Destroyer.
---
It's not news that the Pentagon's fated F-35 program is riddled with dilemmas. For more than a decade, it's bumped into roadblock after roadblock. When the planes aren't grounded, they're forbidden to fly in bad weather, combat missions or at night. Vanity Fair just published a lengthy look at just how bad a mess it is.
---
Even though Iran has backed away from from its threats to lace the Strait of Hormuz with mines, militaries around the world (the US included) continue to employ the devices in large numbers — as much as 200 times as often as any other kind of maritime weapon. So, to augment the DoD's ageing fleet of Avenger-class vessels and empower the new fleet of Littoral Combat Ships, Raytheon has developed the helicopter-launched Airborne Mine Neutralization System.
---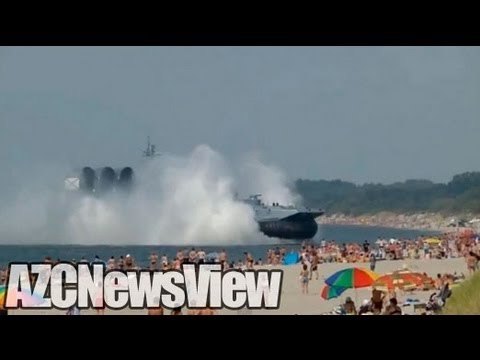 In the most recent bit of Russian bizarreness, a 500-tonne military hovercraft carrying sophisticated weaponry casually pulled up onto a crowded, seemingly public beach. Because, apparently, Russia wants to become Europe's own personal prison planet.
---
Woohoo! Party aboard the amphibious assault ship USS Boxer! Wait, who invited MV-22 Osprey? Ugh… It's not that I don't like Ospreys, it's just that sometimes they get so intense with the glow sticks. [Navy]
---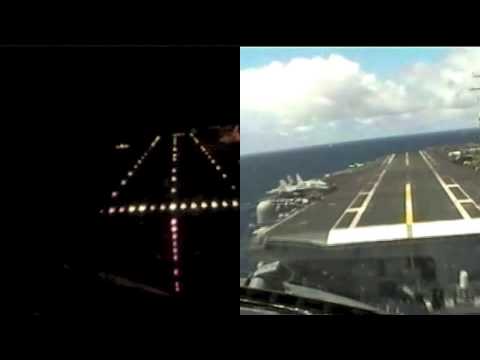 YouTube user Carl Vause recently uploaded a side-by-side shot of two identical aircraft carrier landings — one during the light of day and one in pitch black. The result is absolutely stunning.
---