Briefly: Comet C/2013 A1, known as Siding Spring, passes Mars, just yesterday. In fact, it passed closer to Mars than any comet has ever passed by Earth in recorded history — so scientists are excited to see what the craft orbiting Mars made of it. [SEN/Damian Peach]
---
Unmanned aerial vehicles, or drones or quadcopters as you'd prefer to call them, have certainly taken off in the last few years, which is great, if you love taking cool movies (or terrorising your neighbour's dog). But it's created a headache for the FAA, who have moved to regulate the infant industry and make low-flying aircraft controlled by amateur pilots safer. The latest proposal: an air-traffic control system based on cellular networks.
---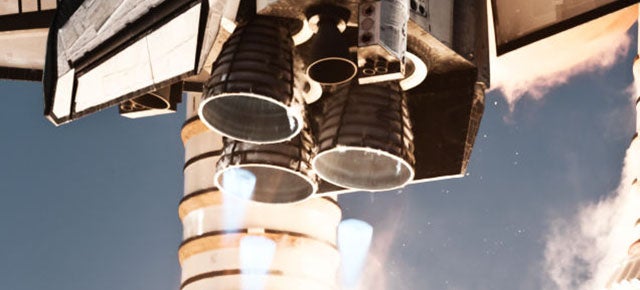 ---
Briefly: This is Tethys, one of Saturn's icy moons, from a perspective that makes it look like it's stuck to the A and F rings of the planet. [NASA]
---
From 1967 until 1973 NASA employed the services of Raymond Loewy, a legendary figure in the design world. Loewy's firm produced over 3000 designs for NASA during this time. And everything they produced for the space agency would fit perfectly in Stanley Kubrick's 2001: A Space Odyssey — like the Loewy space taxi pictured above.
---