---
It's one of those fun facts I loved repeating when I was a kid: Ben Franklin liked turkeys so much that he wanted them to be America's national bird instead of the bald eagle. It's a popular fun fact. But I was shattered to learn as an adult that this little nugget of trivia isn't quite true.
---
Maybe you consider yourself a maestro in the bedroom or a lion in the sheets or think that you don't need no stinking advice about sex. But do you really know what you're doing? Do you really have all your info right? Mental Floss decides to debunk 20 common misconceptions about sex in the video within. You'll learn something.
---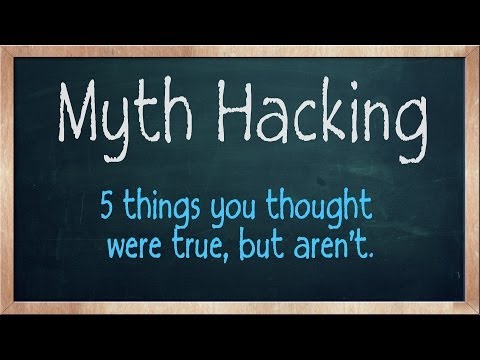 Debunking life hacks are always fun — come on, pointing out silly people doing silly workarounds for silly things to save a silly amount of time never gets old — so Household Hacker whipped up a quick list of five myths that some people do that don't actually help change anything.
---
Myth: Injecting medicine straight into your heart can be beneficial in some way. Ah, the dramatic scene that ends with an actor stabbing a needle straight into their heart, narrowly escaping death and magically curing whatever ailment just befell them. While very dramatic, it's also very untrue and an exceptionally bad idea if your goal is to get better.
---
Myth: Shocking someone who has flat-lined can get their heart started again. It never fails. You're watching television and someone is circling the drain, in the toilet that is their life. The noise from the heart monitor affirms they're still alive, with its consistent, rhythmic beeps. All of the sudden, alarms start going off. On the monitor- the dreaded "flat-line".
---
Hurricane Sandy is coming quick. You've got all your gear, and now it's time to batten down the hatches. But before you do that, there are five common hurricane myths you should know about.
---
I live blogged the launch of the 2012-2015 NBN Corporate plan for Gizmodo this week (Giz editor Luke was trapped on a secret mission with a camera which may or may not have involved underwear, so I stepped in). The big takeaway from the event? Cogent dismissals of six persistent NBN myths which I suspect most readers already know are utter rubbish, but which keep clouding the actual discourse about our broadband future. Let's review.
---