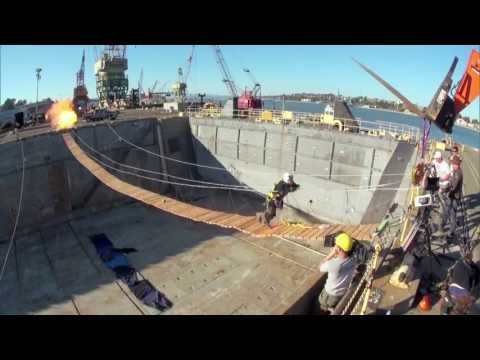 In January, we celebrated the 10th anniversary of Mythbusters — the show dedicated to busting scientific stupidity through a variety of means. Every episode, you'll see a goddamn-huge explosion guaranteed to put a smile on your goofy dial. Here's an awesome compilation of 10 years of Mythbusters' explosions made by one very talented fan.
---
---
If your job is being a Mythbuster, well, you're bound to have awesome stuff in your workshop. Tested visited Adam Savage in his shop and found some ridiculously awesome technology, like a 1981 1GB hard drive that weighed 34 kilograms.
---
You probably know Adam Savage from MythBusters, the popular TV show that tests the validity of various mysteries against the power of science. When he's not mythbusting, Adam is also an industrial designer, artist, educator and all-around Extremely Productive Person. We asked Adam to share how he works, from his favourite productivity playlist to the thing he does better than anyone else. Here's what he said.
---
Well, can it? I'm not going to answer that straight away, because somebody always complains about spoilers if I do. The answer's after the jump for those who can't resist clicking. Double extra spoiler note: also contains spoilers for an upcoming Mythbusters episode.
---
If you're Adam Savage, what do you do in your spare time? Why, make sci-fi gun replicas, of course. Here's a project he's been tinkering with for an impressive (or worrying, take your pick) thirteen years.
---
RFID chips are super cool because those little buggers can beam things wirelessly. The guys at Mythbusters totally thought so too and wanted to make an episode about how trackable and hackable RFID chips were. Sounds amazing! Everyone would've learned more about the technology that's invisibly invading our lives. But, nope. Credit card companies banned 'em.
---
UPDATED The cannonball was supposed to blast through an array of water barrels and a cinderblock wall. Supposed to. Instead it hit the wall, a hill and Jasbir Gill's Toyota Sienna. Now do you see why they tell you not to try this at home?
---
Giz friend Adam Savage, in our estimation, can make just about anything. Here he explains the path he took to turn a toy gun into an astoundingly sharp Blade Runner pistol replica.
---