For as advanced and as lifelike as CGI effects have become over the last decade, physical props are still the bedrock of modern special effects — especially in movies about a guy in a robotic suit. Gizmodo recently sat down with two of Iron Man 3's effects masters, Shane Patrick Mahan and Lindsay MacGowan of Legacy Effects, who have worked on the groundbreaking effects of classic films like Terminator 2, Avatar and Monster Squad, as well as Chris Townsend, the film's Visual Effects Supervisor, to find out how much of Iron Man is really real. SPOILERS AHEAD!
---
Tony Stark is a man of wealth and taste. He likes cars that are obscenely fast and ludicrously expensive, like the Audi R8 and the Saleen S7. But when he dons his Iron Man suit, cars get blown up. Specifically, his cars. And other people's cars. Also military equipment, aliens, and his enemies, but especially cars.
---
The third Iron Man could have been one of two movies. It could have gone on a light and self-referential victory lap of the Ocean's Thirteen variety. Or it could have decided that after two outings — one great, the other basically good enough — we had enough foundation with the characters to really dig in. Either might have worked, but it tried to be both. And didn't quite pull it off.
---
When we first saw Guillermo del Toro's Pacific Rim back in December, it was just a tease filled with robots, creatures, loud noises and explosions. And now we have a little more insight into both the mechs and creatures from a new trailer cut with scenes from Con-exclusive footage.
---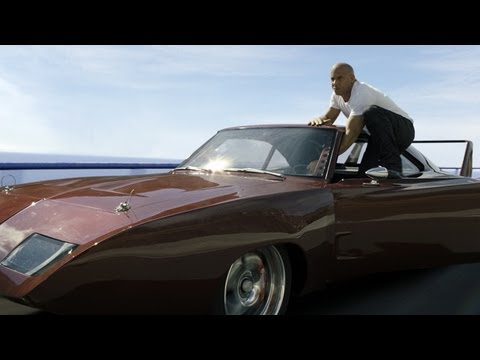 Is there something wrong with me, or does this new Fast & Furious 6 trailer look not completely terrible?
---
It's one thing to make a giant, robotic Tyrannosaurus Rex. It's another thing entirely to make it look remotely real. Granted, a robo-rex is awesome in its own right, but it's just not quite the flavour of monster fit for a film like Jurassic Park. And so it was practical effects to the rescue yet again with a carefully applied dino-skin.
---
Everyone wants a hoverboard. Everyone. Don't even try to disagree. But while you can buy a lame-o, non-working Back to the Future-style 'board, it's just not the real thing. Crazy optimists can hold out hope for 2015, but in the meantime, this clever little picture by François Dourlen is probably the best we can do.
---