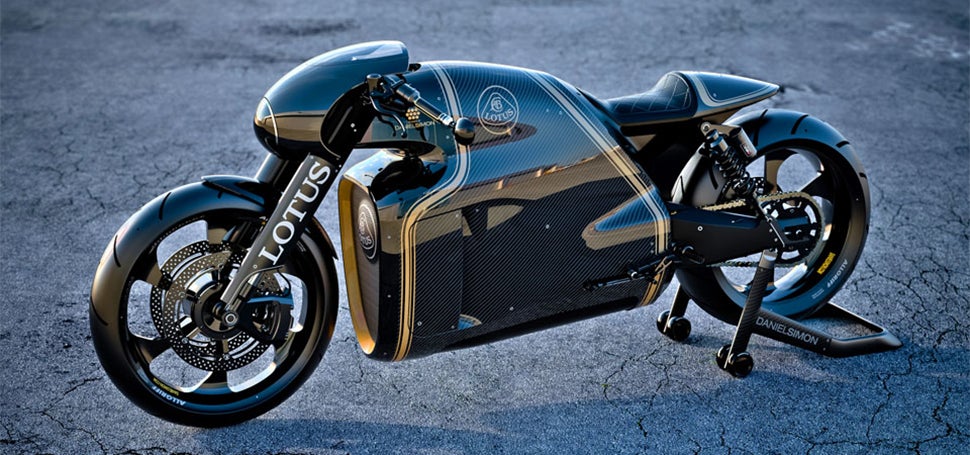 ---
Lane splitting is a controversial topic. If you ride a bike, it's great — it's convenient, helps clear traffic congestion, and it's (relatively) safe. If you're in a car, stuck in gridlock, seeing a leathered-up guy or girl on a slick motorcycle zip past your window up to the traffic lights can be aggravating. The NSW Government is on the side of two wheels, though — it will allow motorcyclists to legally lane-filter across the state from July onwards.
---
If you feel riding a motorbike is one of the more terrifying road-bound activities one can engage in, then the lightcycle battles from Tron probably didn't do much to calm those fears. Not much at all. Those lightcycles did look super slick, though, which is why it comes as no surprise that a automotive business like Lotus would use it as inspiration for its first foray into the two-wheeled vehicle market.
---
If I started telling you about a new all-wheel-drive, turbo diesel-powered off-roader, you'd probably think I was talking about a 4×4 truck or SUV, right? Wrong. Check out the RNT, a concept from Indian motorcycle company Hero that could be the only back-country survival tool a motorcycle adventurer would ever need.
---
There's no bit of technology that made me happier last year than the brand new Honda Grom motorcycle. Is it cheating that it's not strictly a gadget? I don't care. Even if the Grom still breaks fast on old-fashioned dino juice, its diminutive size paired with street legality changed the way I think about city transit and my personal motive needs.
---
This brawny futuristic mini tank on two wheels is supposedly the world's most powerful electric motorcycle. The battery-powered beast can re-charge its 12.8kWh juice pack in 30 minutes and has the power of a 1000cc motorcycle. Called the Voxan Wattman, the bike can hit 0-60mph in less than 3.4 seconds and reach a top speed of over 100mph. Vroom freaking vroom.
---
---
Sadly, we still don't live in a time where we can all ride real Tron Lightcycles around. Until then, we have this to tide us over: an electric sports bike that sounds like a Lightcycle would.
---
Nearly all motorcycle jackets available today have bits and pieces that are CE certified, but never before has an entire garment — not just the elbows, shoulder and back armour — been CE certified for rider safety, like Alpinestars' Atem jacket and suit. After a 12 month-long gestation period and a myriad of new testing processes, the Atem is about as high tech as any modern high performance motorcycle.
---