Loading page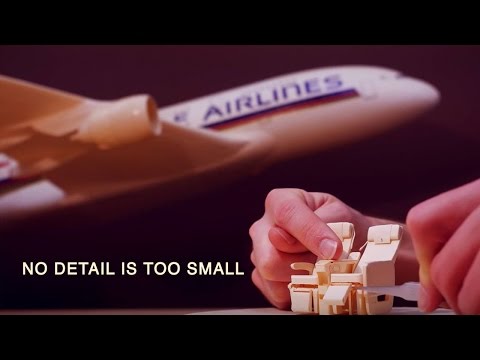 Video: Singapore Airlines got artist Luca Iaconi-Stewart to build a paper model aeroplane of one of their Airbus A380s and it's so impressively detailed that all the tiny paper seats on the model aeroplane can do everything that the real life version can do in real life. We see how Economy seats compare to Premium Economy, check out the life of Business Class and First Class and get our only sniff at the Suites of Singapore Airlines.
---
Video I'm at a loss for words. This project and accompanying short film, To Scale: The Solar System by Wylie Overstreet and Alex Gorosh, is so incredibly awe-inspiring and so beautifully executed, that it will make me dream of the cosmos tonight (maybe every night). The premise is simple: to build a solar system model to scale. The result, done on an empty 11km stretch on a dry lakebed in Nevada, is just awesome.
---
Video: Different eras have different definitions of beauty. A look in the early 1900s can fall out of favour a few years down the road or maybe inspire a style decades later. Cut Video made this video that shows a model getting her and make up done to show what beautiful meant from 1910 to 2010.
---
"Amazon Amanda", who stands 190cm tall, discusses her life and work in a subculture where men will pay to be squished, crushed, wrestled or just be seen in public with a super-sized women. It is an unusual world, but it's definitely one where underground comic artist Robert Crumb would feel completely happy.
Amanda says that nothing sexual ever happens with her clients, but she does get some unusual requests — including once being asked to crush a terminally ill client to death so that he would die happy.
---
Chris Burden says his amazing Metropolis II — a gigantic retrofuturistic city model where thousands of slot cars race forever — is not just a city model. Of course it's not. It's a goddamn amazing jesuschrist look at that city model. It looks glorious in this short by Henry & Rel.
---
---
---
Well played. Ad agency Victors & Spoils poked fun of mass media's tendency to turn normal humans into plastic Barbie and Ken dolls through their abuse of Photoshop by, well, using Photoshop in reverse. That is, they took a viral photo of a girl in a bikini that had been heavily altered and added more alterations to the original alterations to transform the skinny Barbie into a fat Santa Claus. The power of Photoshop swings both ways.
---
Loading page