It still looks like magic. To be honest, I haven't ruled out magic as a reasonable explanation for this yet yet. The MIT morphing table that lets you create a virtual version of you has some new tricks up its sleeves and they're just as impressively mesmerising as the first time we saw it. Watch it control the red ball and inception a false reality on it.
---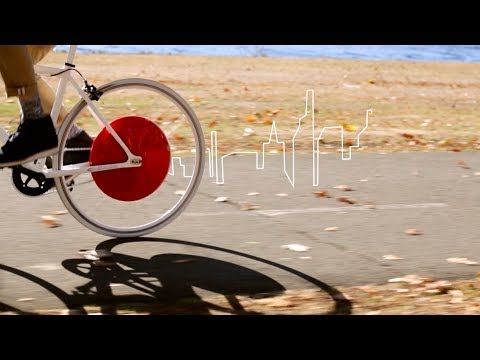 Meet the Copenhagen Wheel. It doesn't look like much, but inside that weird dome around your back wheel is technology originally used on F1 cars to make those long pedal journeys easier and faster.
---
Researchers at MIT have developed a handheld milling machine that turns anyone into a skilled sculptor. Like with a 3D printer, users start with a 3D model on a computer, but instead of a machine laying down layers of plastic, the handheld mill removes only what's needed from a solid block of material to eventually reveal a fully formed 3D object. This could basically turn anyone into a Michelangelo when we're all able to buy one.
---
Holy. Crap. We see a lot of cool stuff around the 'net, but this is by far one of the coolest: MIT has invented a display-like gadget that sits on your desk and renders 3D content based on wireframe models beamed to it from Kinect. It lets you touch things without really being there, and it's a must-see.
---
The ability to passively track people within a given space is every retailer's dream (and every conspiracy theorist's nightmare). Those dreams recently took a step closer to reality with the debut of a new people-tracking system from MIT.
---
There's no shortage of proposed ideas for self-assembling robots, but they're usually either incredibly complex or just a little boring. In contrast, these adorable little cubes have no obvious moving parts — but can still climb over and around one another, leap through the air, or roll across the ground.
---
Navigating a new campus is all part of the nostalgic movie montage that is first year of university. Meet the tour guide! It's…a drone? That's the concept behind Skycall, a playful prototype that's designed to help visiting Harvard students find their way around MIT's notoriously confusing campus — which has been called "one of mankind's most difficult and disorienting labyrinths."
---
Well, well, well. They were more than happy to take all of our best assembly line and theme park greeter jobs, but now — thanks to researchers at MIT — the robots of the world have learned how to ask humans for help. Soon they'll be pleading with the creators they've vowed to replace, in plain English, for assistance with tasks they just can't seem to master on their own.
---
There's a small army of adorable, little, (sometimes) phone-powered satellites out in space, circling the globe. And while they're damn impressive for their size, they face some challenges. They don't have much room for antennas, for instance. But MIT's new inflatable balloon antennas should change all that.
---