Elon Musk just said that his SpaceX spaceships will get humans to Mars by 2026, with or without NASA. It may seem cocky, but coming from a man who has built this entire company so he can die on Mars — and to "help ensure the survival of humanity" — those words are not to be taken lightly.
---
When I saw this image appearing in my RSS, I couldn't tell what it was. It looked like a close-up of the skin of some animal. Perhaps a detail of a bird or a reptile, I thought. Maybe a colorized microscopic view into some human body part. The answer couldn't possibly be more different than what I expected.
---
This is NASA's Low-Density Supersonic Decelerator, "a rocket-powered, saucer-shaped test vehicle" designed to land huge payloads on Mars. So there — suck on that Martians, because after all these decades of sci-fi invasions, we are going to be the ones seizing your planet with our very own flying saucers.
---
In less than a decade, there might be life on Mars. No not because the aliens have been hiding all this time, but because NASA might just put it there. The brightest minds at the Ames Research Center recently proposed sending plant life along with the next Mars rover. It's actually a pretty good idea.
---
When NASA's Jet Propulsion Laboratory sent the Curiosity Rover to Mars, it went through an exceptionally complex process to get the damn thing on the ground.
One of the things used to slow it down through the thin atmosphere was the largest supersonic parachute it had ever built. Now it's building bigger ones to send people to the Red Planet, and that's a problem: it doesn't have a wind tunnel big enough to test it, so it build one with rocket sleds.
---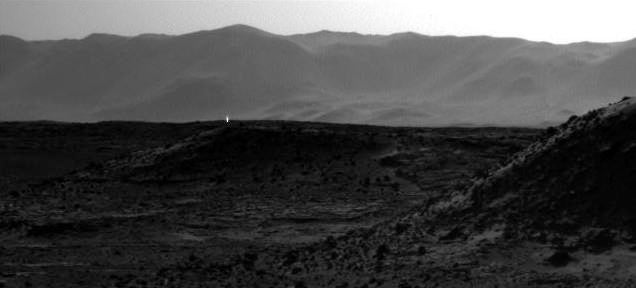 Do you see it? There's a little beacon of light in the photograph of Mars above. It's on the left side of the photo, and it's pretty darn bright. What could it be? More importantly, what do we want it to be? A Martian signal keeping track of the Curiosity rover? An alien laser beam? A key to a secret portal in the universe? A superhero?
---