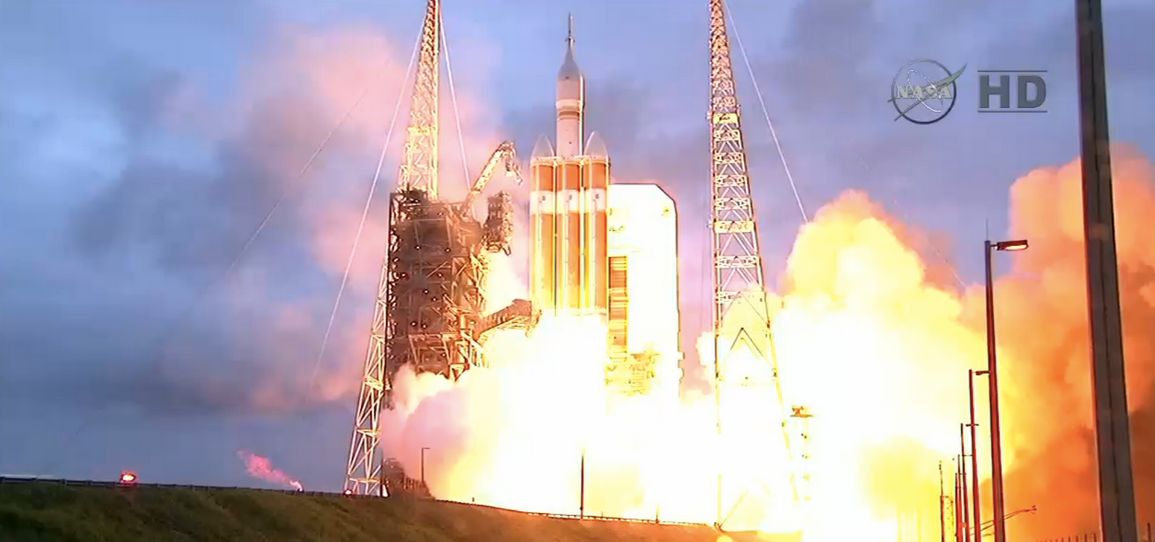 Following an unsuccessful attempt, NASA launched its Orion spacecraft and you can watch it right here. Orion finished its successful test flight and its unmanned capsule splashed down in the Pacific. Tune in below!
---
Briefly: This is Mars' Hellas Chaos, an area covered in wind-blown dunes and flat-topped mesas. The dusting of white is in fact carbon dioxide frost — so, pretty chilly then! [ESA]
---
Do you want to go to space? Of course you do, and the fun thing is you (probably) can — if you have lots of money. The good news is that space tourism is getting cheaper and easier, so it's entirely likely that you might be able to afford it one day. But you probably don't want to say goodbye to Earth quite yet.
---
It may not look like much, but these are the first images of Comet C/2013 A1, known as Siding Spring, as it passed by Mars on Sunday. The images were captured by NASA's Mars Reconnaissance Orbiter.
---
Briefly: Comet C/2013 A1, known as Siding Spring, passes Mars, just yesterday. In fact, it passed closer to Mars than any comet has ever passed by Earth in recorded history — so scientists are excited to see what the craft orbiting Mars made of it. [SEN/Damian Peach]
---
This Sunday, something historical will happen: An ancient rare comet will arrive to Mars after millions of years travelling at 53km/s from the Oort cloud. It will look like you can see above, passing just within a third of the distance from the Earth to the moon, engulfing the Red Planet in its large tail.
---
When we want to leave our mark on Mars today, we simply send over a few rovers to roll around in its red soil. But 150 years ago, scientists had very different plans for contacting the planet, including one French inventor who wanted to use the refracted light of the sun to sear a welcoming message into the Martian desert.
---