 ---
Video: The deadly magnetic metal spheres known as Buckyballs may be officially banned, but they keep living in the homes and offices of rebels who keep making cool stuff with them. Like this massive cube assembled with 10,000 magnetic spheres — without a doubt the most satisfying video so far this month.
---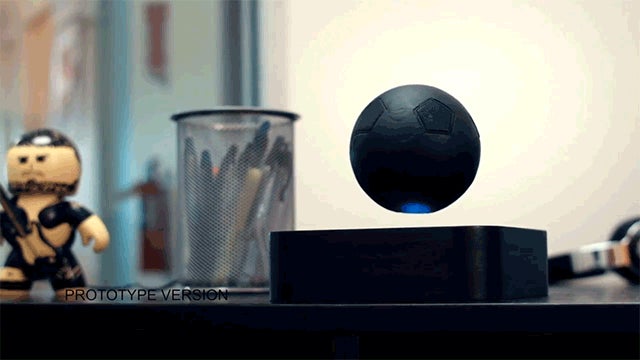 Bluetooth speakers are ubiquitous these days, so it's no surprise to see some companies going out on a limb to set themselves apart. OM Audio, however, is venturing beyond that limb into thin air with its new OM/One floating speaker. Not only is levitation a neat gimmick, but it supposedly also helps the sound travel better. Even if it doesn't, at least it looks cool.
---
Inspired by the coats of fur on some animals, researchers at MIT have developed a flexible skin-like material covered in thousands of tiny magnetic hairs that can move in varying directions in the presence of a magnetic field. That might not seem particularly useful, until MIT points out that the new material can be used to control how liquids move across its surface, even causing water to flow against the pull of gravity.
---
This little superconducting magnet may look serene, but it's actually a record breaker, capable of creating three tonnes of force. The magnet beats a record that has stood for over 10 years, generating a magnetic field of 17.6 Tesla — that's more than a typical MRI machine, or about 3000 times more than a refrigerator magnet — beating the previous best by 0.4 Tesla.
---
Are you prone to losing your keys more often than you'd like to admit? You just need to settle on a specific place to put them every time you get home. And to make this routine enjoyable enough so that it becomes a habit, trying to hit this magnetic bullseye when you get home every night sounds entertaining enough.
---
Last year's laser violin was the first re-imagined stringed instrument that didn't actually have any strings. And not to be outdone in the orchestra pit of the future, this year it's the cello's turn to get a fancy stringless upgrade. But instead of lasers, the Magnetovore opts for magnets, requiring the musician to play it like a sort of cello/theremin hybrid.
---
If you require reading glasses, you'll inevitably get to an age where you tire of constantly misplacing them and just accept that a neck strap is the way to go. But they're actually a handy accessory, and if you want to make the upgrade earlier without looking 20 years beyond your age, this pair of reading glasses actually features a secret integrated neck strap.
---