This little superconducting magnet may look serene, but it's actually a record breaker, capable of creating three tonnes of force. The magnet beats a record that has stood for over 10 years, generating a magnetic field of 17.6 Tesla — that's more than a typical MRI machine, or about 3000 times more than a refrigerator magnet — beating the previous best by 0.4 Tesla.
---
Are you prone to losing your keys more often than you'd like to admit? You just need to settle on a specific place to put them every time you get home. And to make this routine enjoyable enough so that it becomes a habit, trying to hit this magnetic bullseye when you get home every night sounds entertaining enough.
---
Last year's laser violin was the first re-imagined stringed instrument that didn't actually have any strings. And not to be outdone in the orchestra pit of the future, this year it's the cello's turn to get a fancy stringless upgrade. But instead of lasers, the Magnetovore opts for magnets, requiring the musician to play it like a sort of cello/theremin hybrid.
---
If you require reading glasses, you'll inevitably get to an age where you tire of constantly misplacing them and just accept that a neck strap is the way to go. But they're actually a handy accessory, and if you want to make the upgrade earlier without looking 20 years beyond your age, this pair of reading glasses actually features a secret integrated neck strap.
---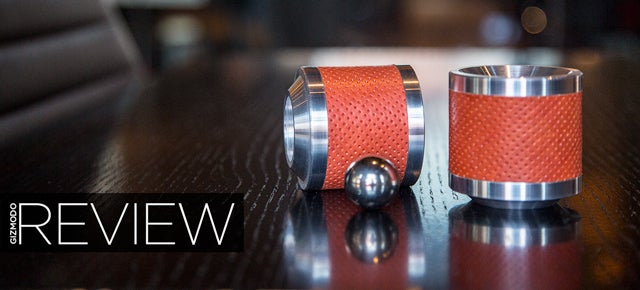 ---
We've successfully engineered giant robot arms for building cars on an assembly line. But smaller mass-produced items — like electronics — still mostly rely on the nimble hands and fingers of a human. Building and controlling robots on a very small scale is still very difficult, but a company called SRI International may have found a clever solution using magnets.
---
There's a fear that touchscreen devices like smartphones and tablets will one day turn kids into lifeless, imagination-less zombies. But technology isn't all bad. And to bridge the gap between the toys of yesteryear and tomorrow, researchers at the National Taiwan University created a building block toy that can interact with apps on a touchscreen tablet.
---
At one time giant blocks of ice were the best solution we could come up with for keeping food cold. That primitive approach was eventually replaced by electric refrigerators using compressors and chemical coolants. Now, almost 100 years later, GE thinks it's found a better way to cool a fridge using a water-based fluid and magnets.
---