If you were lucky enough to have your own private plane, you'd think flying wherever and whenever you wanted without being crammed in coach would be enough. But apparently luxury demands more luxury, which is why Lufthansa Technik developed a fireplace for planes. Yep, it's OK to audibly sigh now.
---
---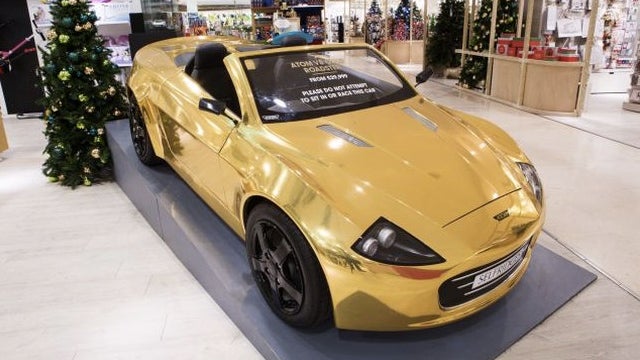 Some parents spoil their kids rotten, and then there are those parents that are willing to spend north of $US45,000 on an electric roadster that isn't actually street-legal, but does come with a fancy gold-plated finish. That's the story behind this obscene toy available from Selfridges' Oxford Street store in London, England.
---
You can say what you will about the subdued stylings of the Apple Watch, but deep down we're probably all a little glad it perfectly married form and function — a balance that not all watch makers strive for. MB&F has just revealed its latest creation, the HM6 Space Pirate that more than lives up to its moniker, at least when it comes to styling.
---
Every once and a while I have to get dressed up for a wedding or something. And it's kind of fun, but it always reminds me that I'm just not fancy on the inside. No matter how decked out I am I'm still a jeans and a tshirt person deep down. But hopefully that's not true of luxury tech products that people spend a lot of money on. They should be just as shiny and fabulous on the inside. Right? LuxInside is trying to expose what's really going on inside the fanciest purchases.
---
Very few people have ever stepped foot on a boat made by yacht design studio Wally — builder of the fastest yachts on the planet — and even fewer have stepped foot inside their loud, hot workshop in Monte Carlo. British photographer Benedict Redgrove is one of them. Here's what a $US33 million yacht looks like before the paint job and leather.
---
---
---
Designed to complement the design of Ludwig Mies van der Rohe's famous Barcelona chair, Döttling's new Liberty Barcelona Watch Safe is targeted at those who can afford the finer things in life. Like $US5,000 chairs, and $88,000 safes designed to only hold timepieces.
---