J. R. R. Tolkien's posthumous The Silmarillion describes the universe where The Hobbit and The Lord of the Rings take place. It has all the secrets of Middle Earth, from individual characters to the genesis of wizards, elves, orcs, or men. This must-watch short explainer reveals its crucial elements in four minutes.
---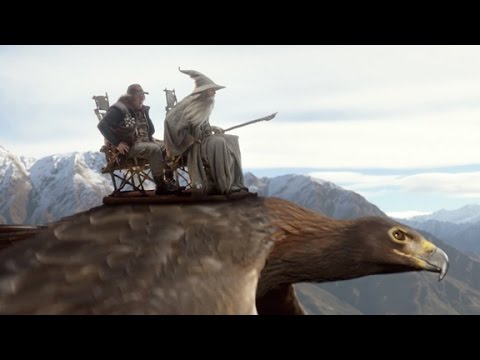 Air New Zealand loves to make fun in-flight safety videos that can include anything from body paint to supermodels to Richard Simmons to Betty White. This time though, they have gone beyond epic: the safety video is basically a full on LOTR and Hobbit movie set in Middle Earth. It's impressive.
---
Few movies rival the intensity — or duration — of the extended cuts of The Hobbit and the Lord of the Rings trilogy. But you know, we don't all have time to sit around developing carbuncles so obscene they'd make a trauma surgeon faint. When your moments (and unwounded body) are precious, you need clips like this one. Yes, it's The Hobbit, the whole story, condensed into 72 seconds. Spoiler warning for those who haven't read the book!
---
In Lord of the Rings, Legolas claims to be able to count the exact number of horsemen five leagues away — that's over 27km — even discerning their leader as very tall. But would that ever be possible?
---
Super-sharp 4k video, in the right hands, is powerful technology. Witness the grandeur of New Zealand's dreamlike landscapes, brought straight to you by Martin Heck.
---
Everyone loves a good impersonation. And by good, I mean perfect. Sure, your mates might share a laugh when you do your crappy copy of Sean Connery, but you know you've hit the big time when you're constantly surrounded at parties with people asking you to record voice messages and what now. Which is something I imagine happens to Charlie Hopkinson a lot, going by his killer impersonations in this video.
---
Middle Earth is an amazing fictional world, but if you want to really get to know it, you've got to read a lot of words. So if you're in the mood for a little Tolkien fantasy without hunkering down for a serious reading session, Google's brand new tour of Middle Earth is a beautiful (and effortless) way to get your fix.
---