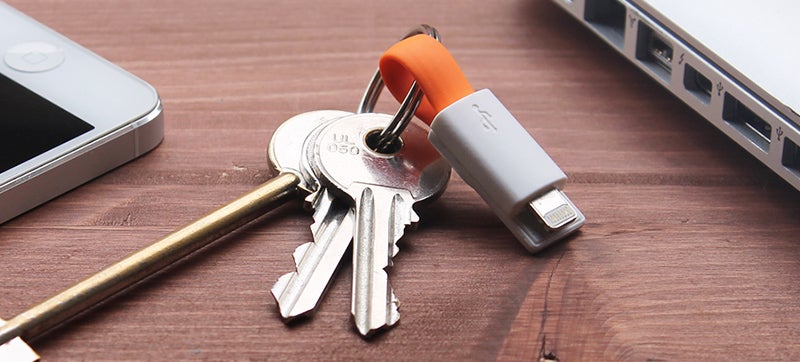 Thin smartphones also mean thin batteries, and carrying a charging cable so your phone can last the day is basically a fact of life now. To make the situation a little more convenient there have been countless keychain-friendly solutions for charging your smartphone, but none as perfectly tiny as the inCharge.
---
Remember the ChargerLeash? It was a replacement USB charging cable for your smartphone that featured a built-in audible alarm so that when it was unplugged, there was little chance you'd forget it and leave it behind. Now there's a new 'Pro' version with a simple silencer so you can also use the cable at home, without the alarm constantly going off.
---
Did you know that a lightning strike emits a broadband pulse of radio waves that can be detected thousands of miles away? It's that phenomenon which allows a website called Blitzortung to show lightning strikes as they happen all around the world, in real-time. If you thought it was hard to tear your eyes away from the World Cup, this is somehow even more entertaining to watch.
---
If you were anywhere near Melbourne last night, you could have been fooled into thinking it was the end of days playing out in the skies above your fair city. A lightning storm of biblical proportions wreaked havoc on the city last night, destroying a house and damaging power infrastructure. As the sun rises on a city still mostly intact, people are sharing some amazing photos of what they saw.
---
Because batteries have a limited shelf life, that torch you've been saving for an emergency might not actually work when you need it to. So instead of stocking up on candles, grab a couple of these tiny emergency lights from Eton that simply need you to add water to keep them lit for three full days.
---
Deck the halls, deck your desk, and charge your iPhone or iPad this Christmas with a USB Lightning cable featuring festive LED bulbs along its length — even if Christmas is months away. It's the easiest and most useful way to bring holiday cheer wherever you go, even if those 10 power-sipping LEDs mean your device is most likely going to charge just a little slower than normal.
---