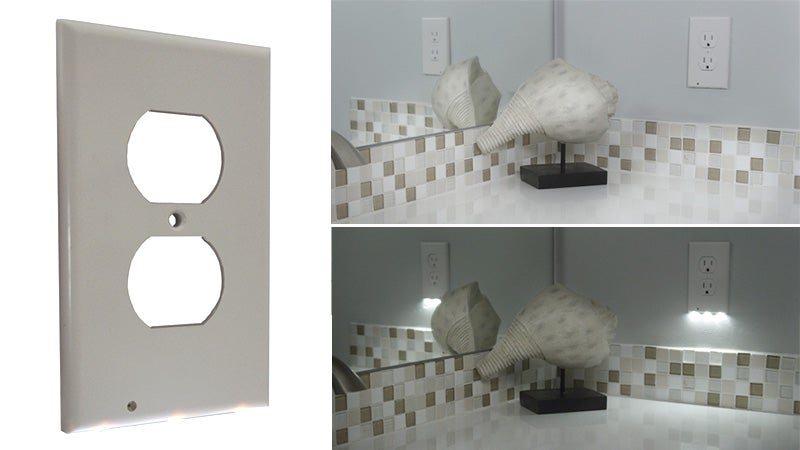 It's OK to sacrifice an outlet to a nightlight in a child's room to scare away monsters, but elsewhere in your home they're far more valuable for other electronics and appliances. And that's exactly why these replacement outlet covers with built-in LED nightlights are so clever — and should eventually be standard in every home.
---
Ball lightning, lyrically known as St. Elmo's Fire, is a phenomenon where electrical storms create a moving, glowing sphere that hangs in the sky. Scientists have created ball lightning in the lab, but had never observed it in nature until now. And it's just as crazy as it looks.
---
We all know wind turbines can produce electricity, but have you seen them produce lightning? When scientists trained high-speed cameras on a wind farm in Spain, they captured lightning bolts shooting out of the wind turbines. Tall structures like towers can initiate ground-to-cloud lightning, but ever-spinning wind turbines present a unique challenge.
---
Argentina's beaches are getting quite dangerous during the southern hemisphere's summer. Seventy people were injured by a swarm of piranhas about two weeks ago and now lightning has killed three teens and injured 22 people in a seaside spa of Villa Gesell, a coastal town in the province of Buenos Aires. Earth can be quite an unforgiving place at times.
---
It may seem a little opulent, but a lot of us won't leave home with at least our smartphone — maybe even two — and a tablet. And eventually one of them is going to need a battery boost, so instead of carrying charging cables and adapters for every single device, toss this single colourful USB adaptor in your bag and you're all set.
---
The coolest kid science fair projects were always those erupting baking soda and vinegar volcanoes. Nothing captures the imagination like a good ol' explosion. This is kind of like that but a lot more insane and groundbreaking: scientists have created artificial volcano lightning in a lab for the very first time.
---
Boosting the battery life on a mobile device is easy; they just need to get a lot thicker. But since none of us are willing to give up our svelte smartphones or tablets, we've bought into a life that involves bringing charging cables wherever we go. A hassle that's now slightly less annoying with these ultra-thin USB cables that can easily slip into the slimmest of pockets.
---
If there ever was a corporate stunt that deserved a 'do not try this at home' warning, this is it. Working with scientists from the University of Southampton — translation: people who know what they're doing — Nokia has successfully charged a Lumia 925 using lightning generated in a laboratory. All of a sudden that knock-off smartphone charger you've been using doesn't seem so dangerous, does it?
---
The makers of the ChargeCard — that wallet-friendly credit card-sized sync cable for smartphones — are back with a new product called the ChargeKey that's instead designed to hang out on your keychain.
---