Continuing the recent decorating trend of glowing stuff smashing through walls we now have three of the most popular Star Wars characters joining the fray. Designed more for kids or gaming rooms these 3D heads are completely self-contained so there's no unsightly power cords to be hidden, and thanks to LEDs inside they always remain cool to the touch.
---
The maze that Pac-Man has to navigate in his quest to gobble up all those pellets is nothing compared to the laundry-covered floor that most of us have to tip-toe through on our way to the bathroom in the middle of the night. And while the ghosts in Pac-Man serve as a hindrance, this colour-changing pixelated lamp will actually help you get around in the dark.
---
I wish I had the disposable income to purchase niceties like this and pretend I'm some sort of swash-buckling captain of a steampunk boat of the skies. Until this fantasy becomes reality (never), I'll just have to admire the handwork of others, with this excellent lamp from a crafty fellow by the name of Leander Lavendel being a prime example.
---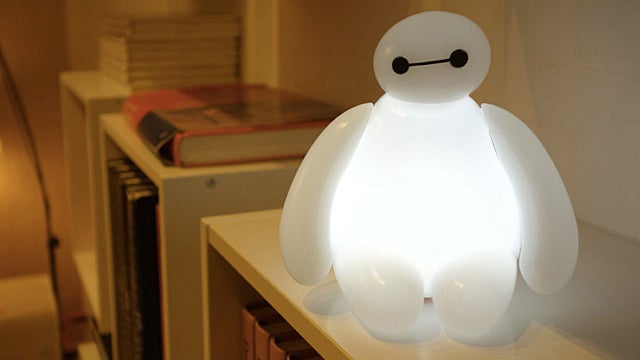 Despite being completely vulnerable to attacks from safety pins, the Baymax robot from last year's Big Hero 6 was just about the best sidekick a kid could have — mostly because it was skilled at treating skinned knees and other injuries. This LED lamp version of Baymax isn't quite as talented, but it can ensure a kid who's afraid of the dark will sleep through the night.
---
Scrabble has been a staple of board game night for decades, and now you can impress your friends with the perfect decor the next time you all get together to challenge each other's vocabulary. These Scrabble lights actually come all blank out of the box, allowing you to use a set of clear stickers to spell out any message you want.
---
Whether you're mining for gold deep in the heart of Western Australia, or trying to find your way downstairs to replace a blown fuse, this retro-styled lantern from Barebones will light the way without needing a single drop of kerosene. Because instead of a flame, it uses a three Cree LED bulbs powered by a rechargeable battery.
---
It might seem like LED bulbs are only for early-adopters hoping to cut down their monthly Con Ed power bill, but come Sunday, the energy-efficient lighting alternative will take centre stage at one of the greatest spectacles on Earth. This will actually be the first Super Bowl to be entirely lit by LED bulbs.
---
LED bulbs are not only more energy-efficient than the incandescents they're slowly making extinct, they also run cool to the touch, which means if you're bored by their uninspired shape, you can snap on these wonderful 3D-printed hanging skyscrapers that glow like stalactites, turning your living room into an art-deco oasis.
---
Is there anything worse than entombing yourself in a warm sleeping bag only to realise you'll need to face the cold of night again to turn off the lantern in your tent? For those who like their camping on the comfier side, Brunton's new Lightwave Amp can be controlled remotely using a Bluetooth connection to an app on your smartphone.
---