They're the perfect accent to a well-manicured backyard, but the solar-powered lights dotting your gardens and walkways are just one misstep away from being accidentally destroyed. So IKEA has come up with the perfect solution, LED lights that you press into your lawn so that they're flush to the ground while still providing plenty of light.
---
Public places are equipped with emergency backup lights so that in the event of a power outage people can find their way to safety. So why shouldn't your home have that too? The ReadyBright system from Mr Beams lets you easily install emergency backup lights all around home — which is probably a minefield of toys if you've got kids — that automatically power up when the power disappears.
---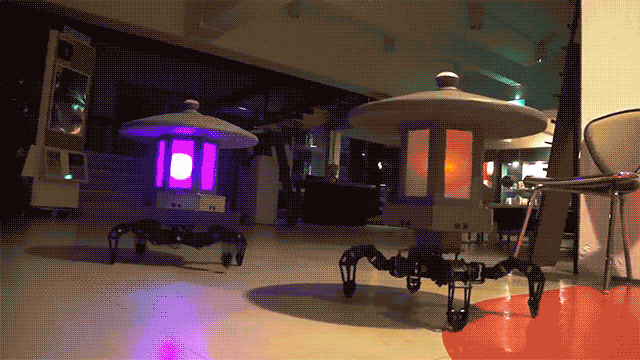 Backyard lighting is as much about decoration as it is about safety, allowing you to enjoy your artificial oasis at night without the risk of accidentally stepping on a hidden rake. But why run lights to every corner of your yard when you can just mount a decorative Japanese lantern to a quadruped and simply have it follow you around all night?
---
Let's be honest with ourselves here for a moment. If you're heading to IKEA to furnish your home, you probably don't live in a sprawling million-dollar mansion. Instead, you're probably furnishing a cosy apartment. And not only is IKEA aware of this, it's also taken it to heart with a tiny billboard that still manages to maximise ad space with three different messages.
---
Another Kickstarter success story in the vein of LIFX, Lightpack is a device with questionable necessity. It's a set of sticky-sided, multicolour LED strips that you attach to your PC monitor. Switch it on, and the lights and colours of your computer screen will be reflected in the ambient light that Lightpack creates. Whether's it's useful or not is completely irrelevant, though — it's just flat-out cool.
---
Let's face it: LED light bulbs are cool. They're much more energy efficient than incandescent globes, they have better colour than fluorescents, and they start up nearly instantly. Fancy bulbs like the Philips Hue have red-green-blue LEDs, too, that can change their colour to create impressive and dynamic scenes, with Wi-Fi control. The LIFX is one of those fancy bulbs.
---
---
For many of us it will still be a few months before dinner parties on the back patio are feasible again — but there's no reason you can't start preparing now. A winter of heavy drinking has probably left you with a mountain of empty wine bottles that can now easily be repurposed as stylish lamps with these $US15 LED corks.
---