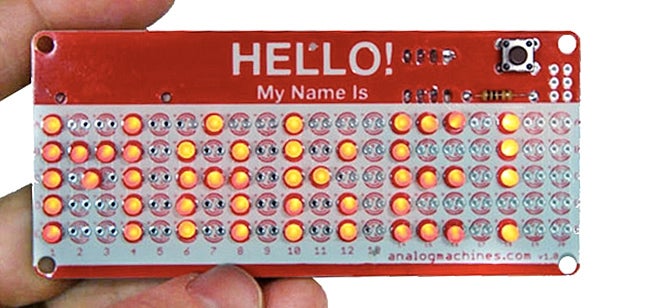 The next time you're at a conference and forced to wear a humiliating nametag, swap that sharpied sticker for this LED badge you build yourself. The soft glow of its 50 red LEDs is sure to have your fellow attendees actually caring what your name is, what you do, and if you're willing to make one for them too.
---
Even when the elderly are being tended to by a caregiver, it's almost impossible to keep an eye on them 100 per cent of the time. So a Japanese company has developed a pair of LED light bulbs featuring built-in laser-based radar to track the movements of someone in its vicinity, and automatically send alerts when they have fallen or suddenly stopped moving.
---
A few days ago, we brought you a video of two skiers wrapped in LED light rope. The effect was extraordinarily weird and cool and now GoPro has released the POV footage of the skiers themselves. Night skiing is always magical, but this goes beyond your average shadowy last run.
---
LED lights are great. They're more energy efficient than incandescents, they provide better quality light than sodium and tungsten lamps and they're less prone to failure than fluorescents. (Although Hollywood movies will never look the same.) The City Of Sydney has installed over 4000 LED globes in city street lights so far, and the results speak for themselves.
---
This is the video for the Cathedrals' song "Unbound". It's lovely! And the way the light cubes in the background pair up with the music is no accident — there's some really cool tech behind it.
---
Though talented with a brush, the Renaissance masters didn't know much about art preservation. So over the years their paintings faded with exposure to sunlight. Even Michelangelo's masterpiece on the ceiling of the Sistine Chapel was subjected to sun damage until the Vatican sealed off its windows in the 1980s. But soon visitors will be able to experience it again in all its glory thanks to a custom-designed LED lighting system.
---
Now that a trio of red, blue and green LEDs can reproduce almost any colour you can imagine, tinted mood lighting has become a hot trend. But why settle for manually dialling in a specific shade when this ColorUp lamp includes a built-in colour picker that can sample and reproduce any colour you so desire?
---
There's pretty good chance you have a piece of this year's physics Nobel prize-winning invention in your pocket. The blue light-emitting diode (LED) is found in the screens of millions of phones as well as our bright, new energy-efficient LED lightbulbs. Today, the Nobel Prize in physics was awarded to the three scientists who made this revolutionary discovery.
---
Because batteries have a limited shelf life, that torch you've been saving for an emergency might not actually work when you need it to. So instead of stocking up on candles, grab a couple of these tiny emergency lights from Eton that simply need you to add water to keep them lit for three full days.
---