Maybe the solution to touchscreen displays that don't get washed out in direct sunlight is to skip the screen altogether. Researchers at Aerial Burton are working to perfect a new kind of display technology that uses lasers to produce 3D pixelated images that appear to hang in mid-air and are still visible no matter how bright it is outside.
---
When I was a kid, I had a small laser pointer. It chowed down on single cell batteries and did little more than annoy my pets. Now, modern laser pointers, such as the Wicked Lasers that exist for whatever reason, can burn through stuff and shoot a beam all the way into space. Sure, that sounds pretty cool but all of this can be bad news for helicopter pilots.
---
Lasers? Fun. Slow motion? Beautiful. Shooting things with lasers and recording what happens in slow motion? That will be what happens in this beautiful video.
---
The only thing better than a toy that keeps your cat and dog occupied for hours is one that requires no intervention on your part. A ball needs to be tossed, a pull toy needs to be tugged, but this laser pointer that clips onto a collar will have your pet chasing, but never catching, that small red dot until they're ready for a nap.
---
Coaxial wiring — like what runs into your cable box — revolutionised data transmission by drastically widening the wire's data pipeline. Two years ago, a research team from University of Southern California accomplished the feat using a vortex of lasers. Now, that same team is back with a means of coiling radio waves around themselves that could provide us with theoretically limitless, long-range Wi-Fi connectivity.
---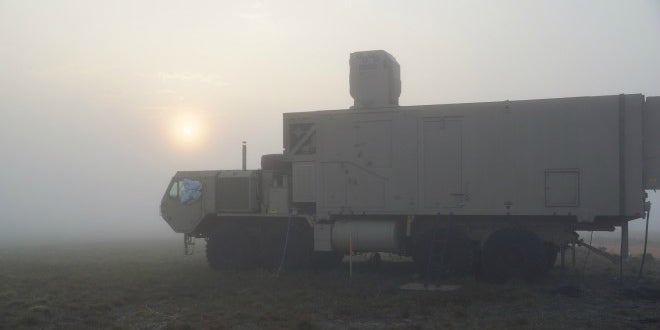 The problem with the current iterations of combat laser prototypes is they can easily be foiled by suspended condensation, smoke, fog and other obscurants that deflect and diffract the beam as its en-route to its target. The HEL MD, however, proved earlier this year that the solution is simple: Just increase the power of the laser enough to burn through everything — including incoming mortar rounds.
---
I wish these crazy blue laser lava spewing fish were a newly discovered species or some radioactive experiment gone wrong but they're not. Luckily, reality is just as cool. Well, almost. The blinding light is actually a tiny crustacean called an ostracod's defence mechanism against the translucent cardinalfish.
---