Coaxial wiring — like what runs into your cable box — revolutionised data transmission by drastically widening the wire's data pipeline. Two years ago, a research team from University of Southern California accomplished the feat using a vortex of lasers. Now, that same team is back with a means of coiling radio waves around themselves that could provide us with theoretically limitless, long-range Wi-Fi connectivity.
---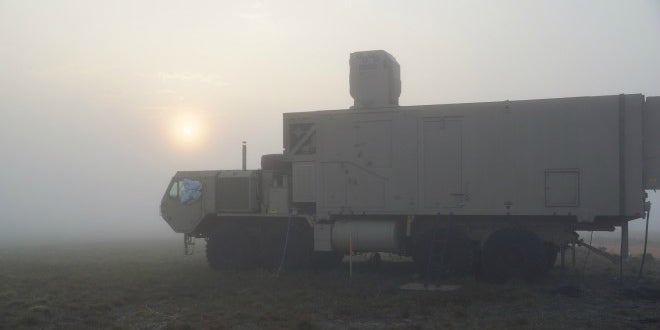 The problem with the current iterations of combat laser prototypes is they can easily be foiled by suspended condensation, smoke, fog and other obscurants that deflect and diffract the beam as its en-route to its target. The HEL MD, however, proved earlier this year that the solution is simple: Just increase the power of the laser enough to burn through everything — including incoming mortar rounds.
---
I wish these crazy blue laser lava spewing fish were a newly discovered species or some radioactive experiment gone wrong but they're not. Luckily, reality is just as cool. Well, almost. The blinding light is actually a tiny crustacean called an ostracod's defence mechanism against the translucent cardinalfish.
---
If you thought last winter was cold, you should stay as far away from magneto-optical trapping as possible. Yale physicists recently used this technique to cool a molecule of strontium monoflouride down to 2.5 thousandths of a degree above absolute zero. That makes them the world's coldest molecules.
---
Video: Aside from going through security and lugging around your carry on and rushing to the gate and avoiding human swarms, aeroplanes are magical places. OK, maybe not. But there's beauty in how they operate. Just watch this ballet of aeroplanes at Shanghai's airport. It's like seeing man made shooting stars.
---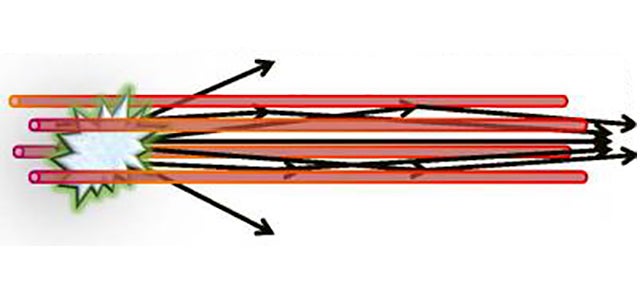 Pulses of light are the absolute fastest way to transfer data (because nothing's faster than light), but old school fibre optic cables can only go so many places. Scientists have a new idea: use high-powered lasers to make a column of low-density air that can carry a light signal just as well as a normal cable. Yes, fibre optics made of thin air.
---
It is not pleasant inside the core of Jupiter — or any other planet for that matter. However, gaining a better understanding of what's going on in there is key for understanding how these planets form. That's why a team of scientists at Lawrence Livermore National Laboratory recently used diamonds and lasers to recreate those very conditions.
---