Video: We've seen insane landings before — those videos haunt my thoughts vividly every time I'm on a plane. And yet I want to see more. Here are two new videos showing the terrifying wind conditions over Birmingham's airport in England. I just added it to my list of places I don't want to fly to.
---
A Virgin Atlantic Boeing 747-400 had to make an emergency landing at Gatwick Airport, London, when its right landing gear got stuck. Amazingly enough, the pilots managed to keep control with only three of the four gears in place.
--- That's some serious skill. Not only is the plane landing in the mountains, it's also in the middle of the forest. Not only is it in the middle of the forest but the runway is incredibly narrow. Not only is the runway narrow but it's a bumpy arse strip of dirt too. So yeah. That is some serious skill.
---
These two guys were enjoying their skydiving so much that they lost track on their altitude meters failing to open the parachute on time for a safe landing. Luckily they fell on what it seems to be a corn field and that softened the landing.
---
Video: The Falcon 9 performed a vertical soft landing test last week, and SpaceX got a pretty neat point-of-view video of the re-entry and touch down from an onboard camera. The camera's glass broke thanks to the landing burn but the images of the rocket entering the earth from such an unusual perspective are really impressive nonetheless.
---
---
Bilbao. Great city, great people, great food — and one of the worst airports in the world.* The winds over its runways are crazy. Check out this video of an aborted landing filmed last Friday. Madness.
---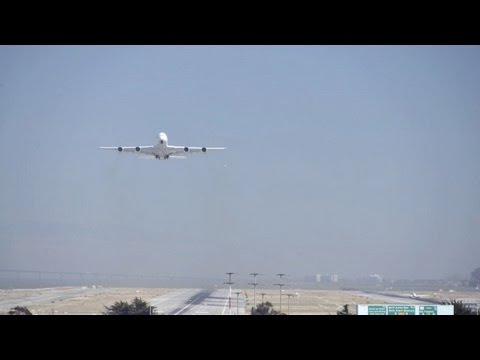 This timelapse video shows the controlled chaos that is aeroplanes taking off and landing at San Francisco International Airport. If you ever played Flight Control on your phone, it's pretty much exactly as impossible as that.
---