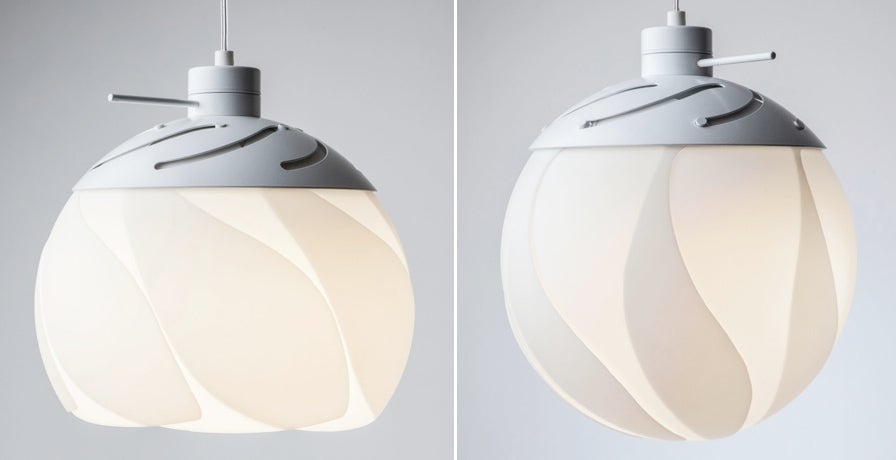 Mother Nature has had a lot more time to perfect her designs than we have. And since she hasn't bothered patenting a single one, we're free to not only use her creations as inspiration — but to straight up steal them. So if you're trying to create a pendant light with an adjustable beam, there's no reason not to just rip off how the pedals on a flower open each morning.
---
I wish I had the disposable income to purchase niceties like this and pretend I'm some sort of swash-buckling captain of a steampunk boat of the skies. Until this fantasy becomes reality (never), I'll just have to admire the handwork of others, with this excellent lamp from a crafty fellow by the name of Leander Lavendel being a prime example.
---
Studio DRIFT made these lovely lamps that feel alive because they have been designed to bloom like a flower. It's a beautiful idea that's even more gorgeous when you see it happen, I would love to walk into my living room and have these ethereal lights dance for me as they descend and shine up the room.
---
Now that a trio of red, blue and green LEDs can reproduce almost any colour you can imagine, tinted mood lighting has become a hot trend. But why settle for manually dialling in a specific shade when this ColorUp lamp includes a built-in colour picker that can sample and reproduce any colour you so desire?
---
Here's a clever way to rid your home of unsightly cables: just hide them in plain sight. Designers Michael & George created the HB Lamps featuring a glowing eraser that can illuminate a room, and a black power cable protruding from the pencil tip that looks like doodles left by the pencil instead of an ugly power cord — genius.
---