Your average human will buckle under too much pressure, but the more weight you pile on these force-sensing lamps, the brighter they will shine. Designed and built by Kebei Li, a pressure sensor inside the lamps works like a bathroom scale. But instead of displaying weight, they cause a ring of LEDs to burn bright depending on how much something weighs.
---
You can buy lightbulbs with every kind of colour temperature, brightness and finish you can imagine these days. So the need for a lamp shade to diffuse, soften and direct their light is all but unnecessary — unless you yearn for that classic lamp silhouette. In that case, this LED lamp from YOY design is a clever compromise.
---
If you've reconciled your childhood frustrations and animosities towards the Rubik's Cube, you might be happy to hear there's now yet another way to make the iconic puzzle a part of a room's decor. Believe it or not this Rubik's Cube LED lamp is actually solvable, although you probably won't want someone to ever mess it up in the first place.
---
This ethereal little lamp is the latest creation of visionary lighting designer Ingo Maurer. Made of transparent film mounted with LEDs, Dew Drops adds flowing curves and a soft glow to any room. From certain angles, it almost looks like a grid of tiny stars, peeled back and draped into your wall or desk.
---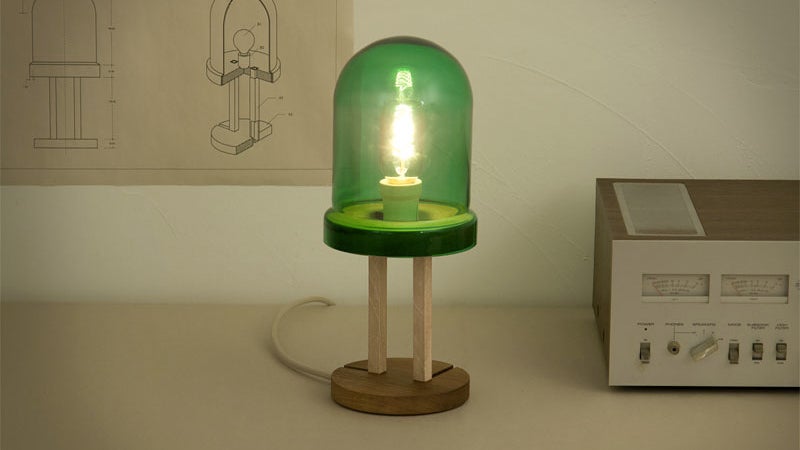 Energy-efficient LEDs have only just started replacing the energy-wasting incandescent bulbs we've been using for decades. But did you know that LEDs date all the way back to 1962? Most people don't, but this modern lamp designed to look like Nick Holonyak Jr.'s original LED design should help educate the masses — or anyone who visits your pad.
---
This Take-Off light shade comes in a single perforated sheet, and you poke out the teensy shapes to make whatever the heck pattern you want. It's like the design equivalent of popping bubble wrap — everyone likes popping bubble wrap! — except you've got to be pretty precise. Once false move and you've got a wackadoo motif to live with… forever.
---
For many of us it will still be a few months before dinner parties on the back patio are feasible again — but there's no reason you can't start preparing now. A winter of heavy drinking has probably left you with a mountain of empty wine bottles that can now easily be repurposed as stylish lamps with these $US15 LED corks.
---