Many Apple fans lamented the company's inclusion of just a single USB Type-C connector on its new MacBook, revealed yesterday. But now that such a desirable piece of hardware supports the new format, we'll finally see peripheral makers embracing USB Type-C with open arms. SanDisk was one of the first, but LaCie has just announced that its Porsche Design Mobile Drive will now also come with a magically reversible Type-C port.
---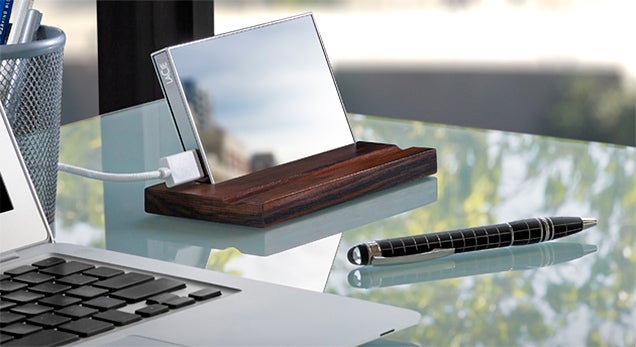 LaCie's no stranger to turning external storage into works of art. Last year it hid a terabyte of drive space inside a silver-plated sphere, and while its brand new Mirror might have a more traditional rectangular form factor, it's the first external drive to be completely wrapped in reflective, scratch-resistant, mirror-finish Gorilla Glass. So you'll spend as much time looking at yourself as you do looking at it.
---
With their now-iconic rubber orange armour, LaCie's rugged external drives have become the go-to choice for professionals in the field looking for a reliable place to store and transport photos and footage. And while LaCie's new Rugged RAID might be a little larger than its predecessors, it provides even more protection with a pair of hard drives inside that ensure your data is perpetually backed up.
---
Speed, size, and even aesthetics all come into play when it comes to choosing an external drive for a computer, but storage capacity is always the most important factor influencing a purchase decision. And with LaCie's new d2 Thunderbolt 2 external drive, you can actually boost both the storage and transfer speeds with an optional SSD upgrade that's easy to install.
---
How often do you remove a USB flash drive from your computer, place it somewhere on your desk, and then have it instantly disappear? Too often. It's one of those bizarre mysteries of — life like socks going missing in the dryer — that LaCie may have just eradicated with its bulbous new Culbuto flash drive.
---
If you prefer everything on your desk to be a stunning example of industrial design, LaCie's new Sphère is an external hard drive you won't want to hide behind your monitor. It looks like a giant drop of mercury thanks to its hand-crafted and highly-polished silver-plated steel housing which helps explain why you'll be paying $500 or more for just a single terabyte of storage.
---
Even if you've splurged on the most capacious smartphone or tablet you can find, at one point you're still going to run out of storage space. And in lieu of constantly swapping tiny memory cards, LaCie's new Fuel offers a full terabyte of storage that's available to your mobile devices via a direct wireless connection.
---
You will pretty much always get what you pay for when it comes to technology. Get a cheap device and you can expect a cheap experience. Spend a little extra and get a better experience. Simple. So what are we to make of LaCie's 5big NAS Pro? It's very good, but the price will just about make you faint.
---