When you're bustling in the kitchen prepping a meal, quickly grabbing a knife out of a storage block is easier than digging through a drawer to find one. Storing them in a block is also just a better way to keep your knives sharp and in good shape, but it unfortunately means they're easily accessible to children. So Joseph Joseph has incorporated a locking mechanism into its new LockBlock that makes knives harder for kids to remove.
---
Video: Induction forging is probably the closest thing we have on this wee Earth that can be considered magic. Just watch this knife glide through the coils of this induction heater and instantly (instantly!) glow bright red because it got so damn hot. I would stick all kinds of metal through that hole.
---
On good days, my knife skills could be considered rudimentary. On most other days though, I'm probably a danger to myself. So never in my wildest dreams would I ever think that I could pull this sorcery off: turn a regular carrot into a perfectly webbed net by strategically cutting it with a knife. The chef is a magician.
---
First revealed way back in January of last year, The Federal's gorgeous set of wooden-clad kitchen knives were only objects to lust over, not actually buy. It was a tease, for sure, but enough people apparently said "want" that Warehouse has refined the design and put them into limited production.
---
I'm not going to lie, I don't really need to know how to cut and make a quill pen from a goose feather. No one does anymore. But! I was completely fascinated by the process of it. It's funny how he uses both vintage tools (an 1800s era quill cutting knife) with modern technology (a NYC metro card!).
---
You can pretend they're there for easy access, but there's something primevally enjoyable about leaving your cutting implements on display in a knife block. It's like knights mounting swords on the wall of a castle, and it's also why this knife block that looks like a Spartan under attack is particularly amusing.
---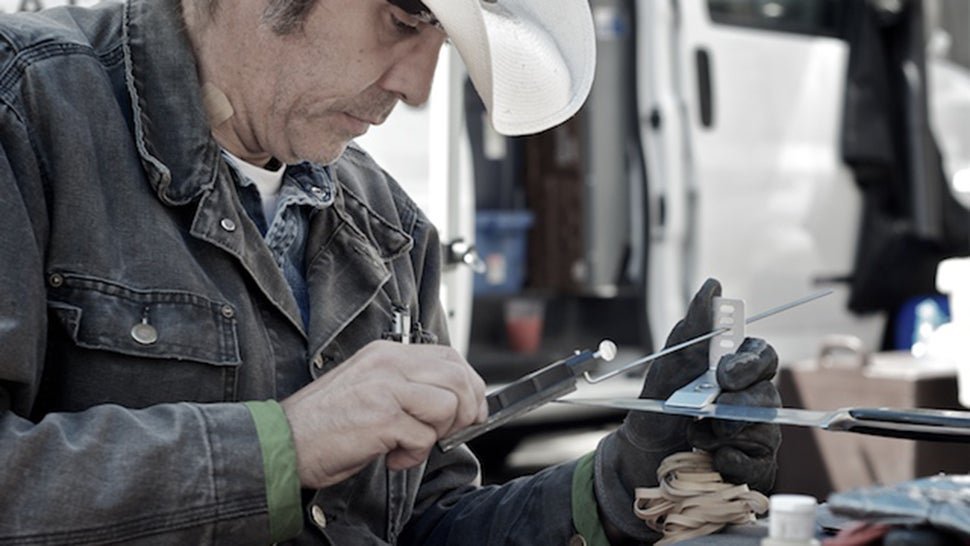 ---
What good is a fancy set of kitchen knives if after deboning a few chickens and julienning a bunch of celery stalks it's already too dull to handle a ripe tomato? You don't want to spend your time in the kitchen toiling away on a sharpening stone, so the folks at TB Groupe designed a set of knives featuring laser-bonded titanium-carbide surfaces that only need to be sharpened every quarter century or so.
---