If you think back to the last time you cut yourself using something sharp, it was probably in the kitchen, not your workshop. Given how much more time we all spend in the kitchen, it makes sense that the risk of injury would be higher. So it also makes sense that someone would design a set of kitchen knives that are safer, easier and more comfortable to use.
---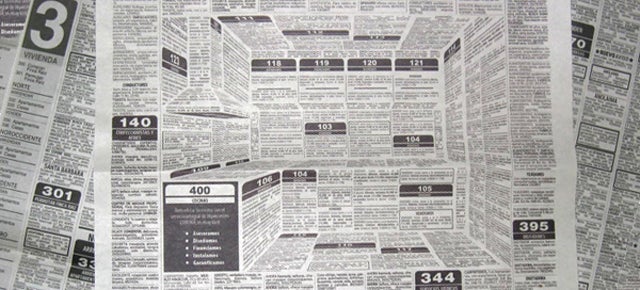 As far as newspaper ads go, the classifieds are an especially boring section of tiny text and identically spaced columns. But it doesn't always have to be so! This ingenious little ad for Corona's kitchens by Colombia-based designer Felipe Salazar plays with the geometry of classified ads. An entire kitchen, complete with gas hood and stove, pops right out at you. You can't do that with Craigslist.
---
The world is not lacking for inexpensive kitchen knife sets — they have long been a staple of late-night infomercials and homeware bargain bins alike — but top-quality cutlery is much harder to come by. These blades from Chelsea Miller Knives offer a rare mix of artful simplicity and rugged sturdiness equally at home in New York City or rural Vermont.
---
Is there anything worse than raiding your kitchen for a recipe only to discover you don't quite have enough of one of the required ingredients? Going to the store is one solution, but for those of us too lazy to go that route, the iPad-connected Drop kitchen scale will actually adjust a recipe based on the ingredients you do have.
---
A box grater provides more stability and grip when you're turning a chunk of cheddar into shredded cheese, but they pose some challenges when it comes to cleaning and storage. So as the name implies, the Flexy grater starts off flat but can be rolled into a three-dimensional shredder, so it's easy to hold and can be slipped into the shallowest of drawers.
---
You're already staring down a sink full of dirty dishes after cooking dinner, the last thing you need is to have to clean the stove too after a pot boils over. And while your cookware probably came with lids already suitable to the task, there's no way they're as fun as this silicone lid featuring a tiny steaming ship.
---
If you spent any time working as a server in a restaurant or bar, you're probably already a master at carrying trays full of food. The rest of us, however, need all the help we can get. And this clever serving tray from Finell helps eliminate spills using a series of stretchy silicone bands that help to hold everything secure when it's in motion.
---