There is no greater tragedy than trying to remove a single piece of pizza from a box only to have half the pizza's toppings come with it because it wasn't properly sliced. The solution is to either find a pizza place where the employees actually care, or buy yourself a pizza cutter and slice it up yourself. And if you're a Ghostbusters fan (who isn't?) this Slimer slicer seems about as good a choice as any.
---
When you're bustling in the kitchen prepping a meal, quickly grabbing a knife out of a storage block is easier than digging through a drawer to find one. Storing them in a block is also just a better way to keep your knives sharp and in good shape, but it unfortunately means they're easily accessible to children. So Joseph Joseph has incorporated a locking mechanism into its new LockBlock that makes knives harder for kids to remove.
---
Lucky Peach shows us a behind the counter look at what is probably the best pizza place in Rome (and maybe Italy? the world?): Pizzarium. Consistently placed on top 10 lists, it's famous for its pizza al taglio, which is pizza by the slice. Chef Gabriele Bonci gives us a rundown on how he makes pizza and it's pretty wild.
---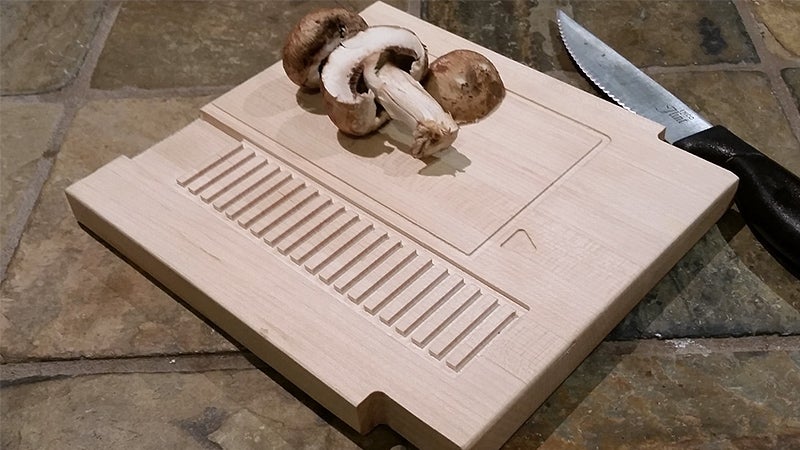 If you dropped a little coin on some extra-fancy kitchen counter tops, the last thing you want to do is hack them to pieces with a knife while cutting meats and veggies. But who wants a boring old slab of timber to cut on when Etsy seller CuttingBoredom will make you a beautiful walnut, maple, cherry, or mahogany cutting board shaped like a classic NES (wink) cart?
---
Usually when you open a pizza box that's been sitting on your kitchen counter for weeks, you're not going to find a fresh, hot slice inside. So maybe it's time to take your local pizza place off your speed dial and start making your own using this compact oven that looks like a pizza box, except that it's not made of cardboard.
---
After watching this video I feel like the best microwave I've ever used sucked very badly. What you see here is a concept for the Heat Map Microwave, which would have a built-in IR camera on top and a screen on the front, effectively allowing you to see exactly when your food has been heated all the way through. Get this thing in my kitchen right now.
---
It seems the recent trend of giant sea creatures invading your kitchen isn't going away anytime soon — and we're not talking about calamari made from giant squid. This adorable mixing tool, affectionately known as Moby Whisk, is the perfect accompaniment to that Nessie Ladle from last week.
---