As far as movie sidekicks go, it's hard to find one as invaluable as Star War's R2-D2 was. That little droid was always in the right place, at the right time, with the right tool to save the day. And that now includes your kitchen with this R2-D2 measuring cup set that helps ensure your baking ingredients are always perfectly proportioned.
---
Tefal kicked off the whole "frying foods with minimal oil" trend with its Actifry machine, but who really has room for yet another appliance on their kitchen counter — even if it promises healthier fries and wings? That's why Samsung has introduced what it calls the Slim Fry feature on its microwaves, adding even more functionality to an appliance most of us can't live without.
---
If you're lucky enough to have a retractable sprayer attached to your kitchen tap, you've probably noticed that its circular blast often isn't powerful enough to really scrape dishes clean. To fix that, Kohler is introducing what it calls Sweep spray technology that blasts stuck-on food with a wide blade of water that works like a liquid scraper.
---
If you think back to the last time you cut yourself using something sharp, it was probably in the kitchen, not your workshop. Given how much more time we all spend in the kitchen, it makes sense that the risk of injury would be higher. So it also makes sense that someone would design a set of kitchen knives that are safer, easier and more comfortable to use.
---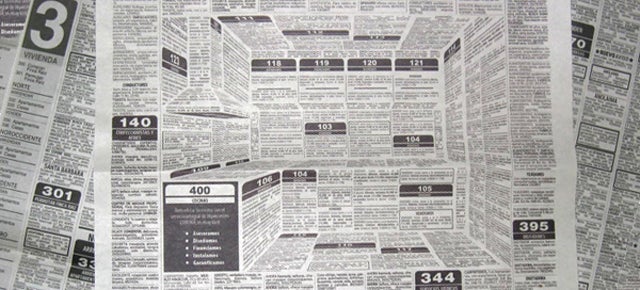 As far as newspaper ads go, the classifieds are an especially boring section of tiny text and identically spaced columns. But it doesn't always have to be so! This ingenious little ad for Corona's kitchens by Colombia-based designer Felipe Salazar plays with the geometry of classified ads. An entire kitchen, complete with gas hood and stove, pops right out at you. You can't do that with Craigslist.
---
The world is not lacking for inexpensive kitchen knife sets — they have long been a staple of late-night infomercials and homeware bargain bins alike — but top-quality cutlery is much harder to come by. These blades from Chelsea Miller Knives offer a rare mix of artful simplicity and rugged sturdiness equally at home in New York City or rural Vermont.
---
Is there anything worse than raiding your kitchen for a recipe only to discover you don't quite have enough of one of the required ingredients? Going to the store is one solution, but for those of us too lazy to go that route, the iPad-connected Drop kitchen scale will actually adjust a recipe based on the ingredients you do have.
---
A box grater provides more stability and grip when you're turning a chunk of cheddar into shredded cheese, but they pose some challenges when it comes to cleaning and storage. So as the name implies, the Flexy grater starts off flat but can be rolled into a three-dimensional shredder, so it's easy to hold and can be slipped into the shallowest of drawers.
---