The amazing thing about the Google Science Fair isn't so much the ambitious projects that spring from it, but who creates them: teenagers worldwide between 13 and 18 years. Google has announced the 15 global finalists for this year's competition. They're all spectacular, but here are five that stood out.
---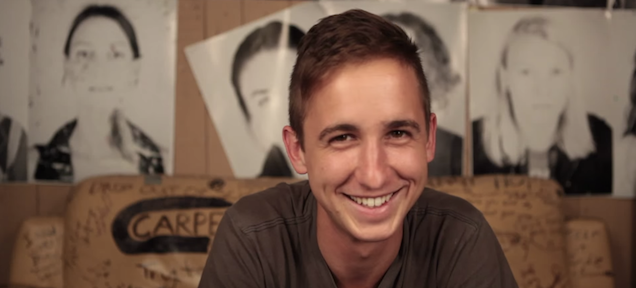 Coachella. Glastonbury. Bonnaroo. The Grammys. You name the music festival, Marcus Haney has somehow snuck into it. He makes fake passes, pretends to be the press, jump fences and does anything he can to get in and has somehow made friends with famous bands and shot their album covers. Here's the movie trailer for his story, No Cameras Allowed.
---
There are many perks to bike shares, but there's a distinct advantage for the entrepreneurially minded: you're not allowed to make the bike better. Not by giving it an electric motor. Not by adding a seat to take your kid to school. Nope, nope, nope. Should bike shares really be keeping such a tight reign on their bikes?
---
A Chinese man and his four-year-old son are apparently stuck in South Korea because his son used his old man's passport as a drawing book. Seriously. While on holidays, the kid started doodling over his Dad's passport, decorating it with human-ish and animal-ish figures, a lot of scribbles and some added flair. Cute!
---
In addition to kissing all of their free time goodbye, new parents also have to get used to every inch of space in their home being filled with baby gear. But not their car, because the Doona is a clever car seat that features a set of retractable stroller legs and wheels so nothing has to go in the trunk — except boxes and boxes of diapers.
---