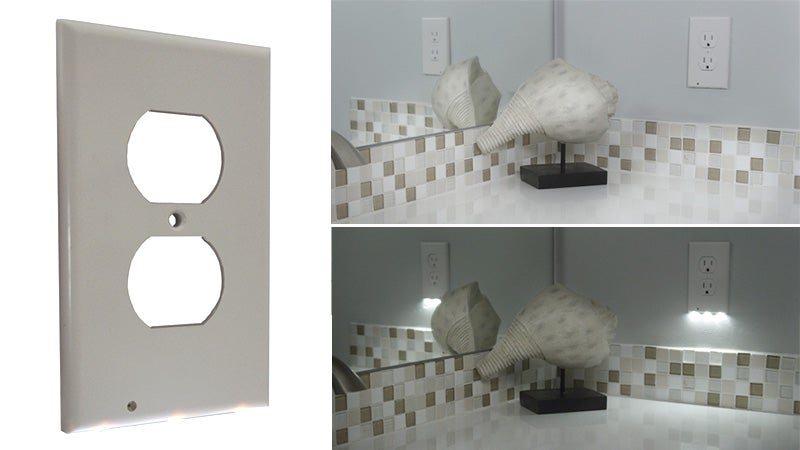 It's OK to sacrifice an outlet to a nightlight in a child's room to scare away monsters, but elsewhere in your home they're far more valuable for other electronics and appliances. And that's exactly why these replacement outlet covers with built-in LED nightlights are so clever — and should eventually be standard in every home.
---
Even when it's just team deathmatch in a dark, smelly room inside the local roller rink, laser tag is awesome. So imagine how cool it would be if you could liberate it, and play an open-source version wherever you want with game-types you made up. It would be like a video game in real life! Or paintball without the pain!
---
If you'd rather have a play on many different kinds of instruments instead of paying lots of money for one, Ototo lets you use a pipe as a saxophone, a bench as a keyboard, a piece of cardboard as a guitar, and so on. By attaching up to 12 touch-sensitive inputs to whatever object you want, you can turn it into literally any instrument that exists in the virtual world.
---
Another Kickstarter success story in the vein of LIFX, Lightpack is a device with questionable necessity. It's a set of sticky-sided, multicolour LED strips that you attach to your PC monitor. Switch it on, and the lights and colours of your computer screen will be reflected in the ambient light that Lightpack creates. Whether's it's useful or not is completely irrelevant, though — it's just flat-out cool.
---
Don't lament the fact that your tiny podunk town recently spent all its money on a new water park instead of a museum. Thanks to a lifelong dream of Hans Fex, you can have a tiny museum of your own sitting on your desk, featuring everything from dinosaur poop, to coal from the Titanic, to small bits of the Cheyablinsk meteorite.
---
Toy cars are a compromise: the simple ones "drive" like a roller skate, and the really serious ones are too intricate (and expensive) to just hand over to a mere child. Modarri Cars wants to change that with fun, customisable, modular toy cars with spring suspension and steering just like the real thing.
---
How many times has a trip to the park been undone because you just couldn't decide what sports gear to bring with you? With the AryaBall kit, it's a decision you'll never have to make again because a simple bat and soccer ball turn into everything you need for playing frisbee, baseball, golf, and even football.
---
A recently successful Kickstarter to make "the world's first augmented television" might finally put 3D TV to good use, transforming your home screen into what the developers call "a Minority Report-like experience."
---