You use it every day without a second thought, but if you think about it for just a second, QWERTY is really, really weird. Where did something so strangely unintuitive come from? The popular story is that it has to do with typewriter mechanics and jamming prevention, and although that explanation sure is tidy, it's also probably bullshit.
---
Swype has finally dropped its Beta tag and gone official — which means it's now in the Play store, easy to install and no longer free. Developers at Nuance — the company which purchased Swype in 2011 — clearly deem the latest version of the Android Keyboard, 1.5, finished and ready for full public consumption.
---
Phone and tablet keyboards are humongous, relative to the screens they live on, and admittedly adhere to an antiquated typewriter metaphor. Minuum is a new way to think about how to make a digital keyboard tiny and forgiving, mostly, but it also highlights just how damn hard it is to come up with something better.
---
The piano is a pretty old instrument. And sure we have electric variations, which added the option mess with the sound, but the key interface has remained pretty standard. Roli is trying to shake that up with the Seaboard Grand, a new, futuristic-style instrument that puts pitch tweaking at your fingertips.
---
Relying on your tablet's on-screen keyboard saves you from having to carry clunky accessories, but it also gobbles up a good chunk of usable screen real estate. So Fujitsu researchers are working on a happy medium that uses the tablet's camera to track your finger movements on a desk, as if you were typing away on an invisible keyboard.
---
SwiftKey 4 is the latest version of one of the best Android replacement keyboards. The update introduces "Flow", or swipe to type, new gestures and word prediction for 60 languages.
---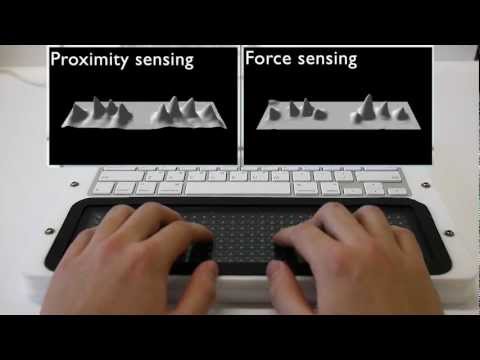 With gesture controls becoming more common in software and apps, it makes sense to maximise the size of a laptop's touchpad to facilitate more than just a couple of fingers. So researchers at the Korea Advanced Institute of Science and Technology have developed the Longpad, an oversized touchpad that's as wide as a keyboard and smart enough to ignore the user's hands when they're typing.
---
NAMM is the musical instrument industry's annual woohoo of a trade show where all the big names show off the fancy new wares they want the musicians of the world to embrace. But if you don't actually go to the show, the best part is watching demo videos full of crazy sound and batshit blinking lights. Here's our favourite stuff from this year's show, complete with the desire inducing videos.
---