Making sake typically looks like a beautiful ancient art, but the way this video is cut and edited, it looks like a chase scene from a movie or an intense spazzmastic sequence from a music video. It's addicting, hypnotic and completely cinematic. Just watch rice turn into delicious sake in this stunning black and white video and try not to grab a bottle and chug the whole thing down.
---
When the 2011 earthquake in Japan damaged the Fukushima nuclear power plant, teams scrambled to find a robot that could go where humans couldn't. In many ways those robots failed, and ever since, there has been a focus on creating robots that can get the job done. Enter Toshiba's "Scorpion" robot, which will make its way inside the power plant this August.
---
It's a potential Megabots Inc vs Suidobashi Heavy Industries showdown. Actual huge piloted mechs doing battle. This is what science and technology is all about. Check out the hilarious and awesome team Megabot video challenge for yourself and decide for yourself who will win.
---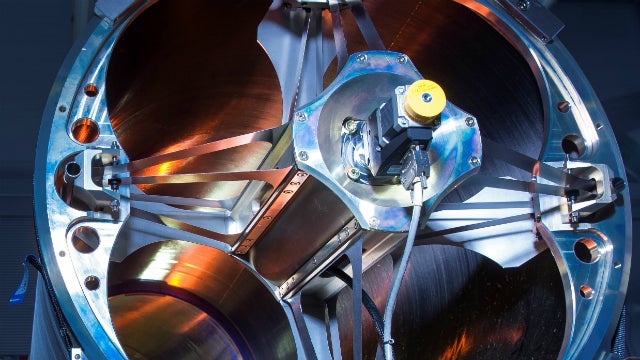 Here comes yet another drone-zapping laser: A German missile manufacturer built this Death Star-like beam to protect world leaders. And it works, too: in a field test, it took down a mini-drone in three seconds flat.
---
Kids need to play. It's simply how they learn — more and more, scientists who study early childhood development say that preschools and kindergartens are focusing on academics when they should be letting kids simply play. Not at this preschool in Japan.
---
Shugendo is an old religion in Japan that started in the 7th century that focuses on a spiritual experience or awakening of sorts with nature. There's more to it then that, of course. But this film by Mathieu Le Lay explores that world and follows Yamabushi monk Kosho Tateishi during his prayer rituals.
---
Sometimes the best ideas come from thinking far, far outside the box. That's what Nissan and Japan's marine science agency did with their new deep sea rover. To build it, engineers used the same tech as a park-assisting car — which is now helping to give scientists a 360-degree view of the ocean floor.
---
This adorable little girl gets to live every kid's dream and turn her arm into an animated rocket cannon that blasts bad guys. The music video for Grades' song King was made by Taichi Kimura and features Laika Takasu dancing (really well!) around an empty school as animation enemies sprout all around her.
---